Andris Balins – 9.21.11 C20
2 February 2012
xdementia
One Comment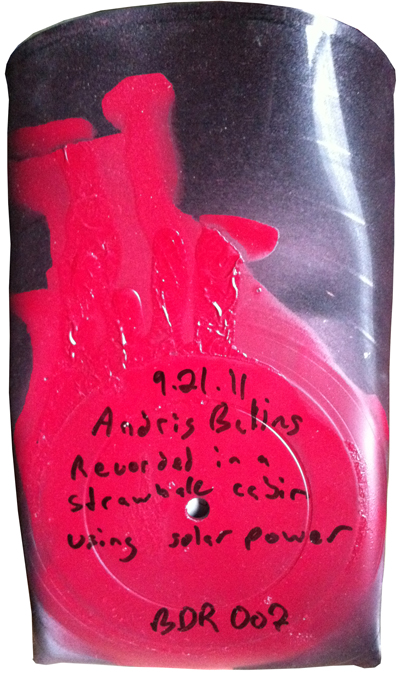 Andris Balins – 9.21.11 C20
Owl Records/Blood Dirt Cassettes
Here's a weird and wonderful release. 9.21.11 is artfully packaged in a melted vinyl record with a splash of red paint across the front. Shaped into a stand-alone holder, the cassette lives comfortably within. The music itself is also quite intimate. Harmonic bells and slow guitar meld with a healthy air of ambience and tape hiss to form a quiet yet melancholy and beautiful piece of music.
My only gripe is that it is one long track split between two sides so when side A ends the tape abruptly cuts off which ruins the carefully constructed ambience that is acheived here. As side B continues the tension and complexity build ever so slightly, but finally things come to a sudden change in rhythm while still staying in key. Once again the end of the side also marks the end of the track with an abrupt cut off which just breaks the atmosphere, but I can only assume it's what the artist intended.
I'm not entirely sure the sounds match the formate very well here. The atmosphere is great, the music is subtle yet simple but the tape just seems to break up the piece and take away from the careful construction of the composition. The packaging is great, I love the melted vinyl record and it will surely be displayed with care on my collection shelf.
| | |
| --- | --- |
| Composition: | |
| Sounds: | |
| Production Quality: | |
| Concept: | |
| Packaging: | |
| Overall Rating: | |