Peter J Woods/Brutophilia – Burials, Ruins, Offerings 2×3″CDR
2 February 2012
xdementia
One Comment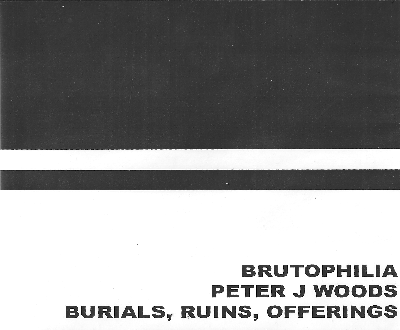 Peter J Woods/Brutophilia – Burials, Ruins, Offerings 2×3″CDR
Holy shit. I am always so thankful when I find something like this that's been sitting in the review pile forever and I pick it up and realize how fucking insanely awesome it is that this was even made. Perhaps this is a bit dated at this point, but both artists absolutely rip it up with this split release which is nicely organized on 2 3″CDRs. Gotta love these things.
Peter J Woods takes the white disc with 3 tracks of punishing industrial. The first being a more rhythmic affair of sickened industrial-tinged power electronics. If I didn't know better I would almost think this was some new material from Brethren. Following the opener is a whopping 9 minute track entitled An Unending Protest – 6/23/07. This time the lyrics are more in the classic PJW woods style of almost being spoken word, but the noise is full-on holocaust material – crushing everything in it's path like a fiery inferno. About half-way through the track there is a sudden change-up to drones and finally to weird academic-like sound design. This is what makes PJW so versatile and cutting edge as compared to so many other more generic power electronic artists. The last track A False Sense of Isolation features beautiful floating metallic drones once again joined by intense pummeling distorted tones. This track probably shares more with Navicon Torture Technologies, but it's like if you mixed NTT with Emeralds or something – it's just fucking bizarre but in the best possible way.
Brutophilia is a bit more restrained where style is concerned but none the less for wear. Heavy as fuck synth based industrial power electronics attacks with his 3 tracks. The sound reminds me much of Strom.ec one of my favorite industrial acts. One great example of the excellent dynamics and mixing that Brutophilia employs is towards the end of Give-Take where the throbbing synth dies down to leave the more industrial percussion space to ring out. The closer You Burn features an amazing, almost danceable synth pulse very much recalling Haus Arafna to mind. With echoing distorted vocals lurking in the background it's obsessive and almost catchy.
This is a phenomenal release and one that I can't believe I haven't heard more about. I'm guessing it's long sold-out but if you can find a copy somewhere it is undoubtedly a worthy edition to any industrial/power electronics fan's collection.
| | |
| --- | --- |
| Composition: | |
| Sounds: | |
| Production Quality: | |
| Concept: | |
| Packaging: | |
| Overall Rating: | |