Drone Lebanon/Wertham – Roma Yerushalayim CD
23 February 2010
xdementia
No Comment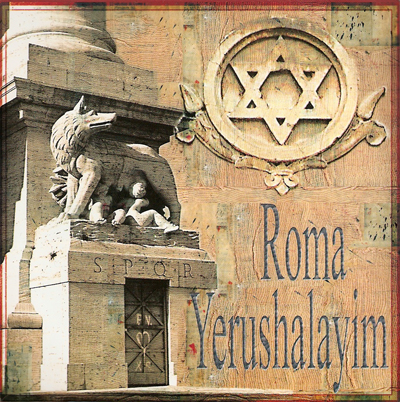 Drone Lebanon/Wertham – Roma Yerushalayim CD
You know you're in for a tough review of a split when you really like one artist and are not at all into the other. Roma Yerushalayim is a split CD that deals quite a bit with politics, politics mixed with religion. The concept here is one that has and will be explored endlessly because it is always changing. Since I know little about the plight of Israel or Judiasm and even less about the Zionist political situation I am going to refrain from commenting on the concepts here and stick to the noise.
Drone Lebanon is up first and this is my first exposure to the project. With 5 tracks their material spans about 30 min here and I am enjoying it immensely. Their mix of electronic synth music, noise and power electronics is a success on all fronts. Each track has it's own thing going on here which makes for Drone Lebanon's side to be a particularly engaging listen. There's a heavy dosage of raw noise pummeling, absolutely tortured vocals, and… synth arpeggios? Yes, that's right, they're in here too and it fits together perfectly. The material is almost like a mix of Irakarah and Haus Arafna.
Aside from the political samples and unique and tasteful mix of electronica elements combined with power electronics, the actual mixing of the different layered sounds on Drone Lebanon's side is very well executed. All sounds are crisp, clear, and defined in order to deliver a very harsh and heavy sound. I'd say the production here is on par with something Thomas Garrison of Control might be able to pull off. It's a well balanced mix of digital and analog sources.
Unfortunately I just can't get down with Wertham's material. This is the second release of his I've reviewed and as with the first it leaves me wanting, with expectations unmet. The tracks are long, the sounds are lo-fi and clumped together and the compositions are so dense it gives the impression that everything is just crowding in on itself. On top of that the samples aren't as obscure to me and I really tire of relgious samples unless they are strange or subversive in some way. Wertham's opener "La Distruzione del Tempio" – I don't speak Italian, but I'm guessing that might mean "Desotroying the Temple"? – is no less then 15 minutes long and it just drags on and on.
"Aelia Capitolina" is a little shorter with more industrial rhythmic gestures. I enjoy this track quite a bit more but it still pales in comparison to the Drone Lebanon material and it's mixed and produced to just be so much more understated. I feel like this could have benefitted if some of the layers were a bit less drenched in reverb and more upfront, some nice hard industrial clanging and blasts of noise instead of these vague whispy layers buried under miles of distortion and reverb.
Let me stress that the Drone Lebanon material on here alone is enough to grab this split. They've got an original thing going on here and they're doing with very well. I can see a lot of great potential for them. In the end though, this is one of those splits where one side is great, the other side, not-so-much. You can't win 'em all.
| | |
| --- | --- |
| Composition: | |
| Sounds: | |
| Production Quality: | |
| Concept: | |
| Packaging: | |
| Overall Rating: | |