V/A – Blood Dirt Compilation Vol. 1 CDR
14 February 2012
xdementia
No Comment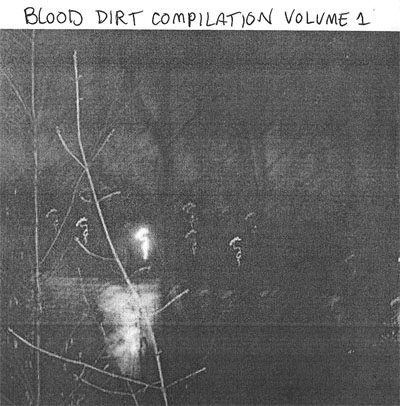 V/A – Blood Dirt Compilation Vol. 1 CDR
Owl Records/Blood Dirt Cassettes
Here's a completely eclectic compilation covering folk, noise, indie rock, ambient, and experimental. This is really all over the place yet the material from each genre is of a decent quality. I might even go as far as to say the noise on here – Richard Ramirez, Black Leather Jesus – seems a bit out of place due to it's S&M nature, aggression and stark contrasts between the other more musical works on the disc.
After a track that is kind of a funny opener we are presented with the experimental wanderings of Buildings and Mountains. Following that is a psychedelic rock track from Bees/// and then the noise blasts of Richard Ramirez. The pacing, being comprised of so many different styles is just odd, but I like each track on it's own, it's just so awkward placing it in the larger context of this varied compilation.
Possibly the furthest step out here is the country/blues tinged Hole in the Mountain by Horseshoe Lounge Playboys. Although it's a decent track, it stands on it's own stylistically. Yet it's another addition which adds to the unique character of the compilation.
The packaging here leaves a lot to be desired. Although I suspect this is just a promo for what really is an online-only release as I can't find any way to order the CDR anywhere. But, what the hell – it's a way to get a review. Luckily the compilation is available for a free download here so you can judge for yourself what you may think of it.
| | |
| --- | --- |
| Composition: | |
| Sounds: | |
| Production Quality: | |
| Concept: | |
| Packaging: | |
| Overall Rating: | |