Veiled – Museu Secret C24
15 February 2012
xdementia
No Comment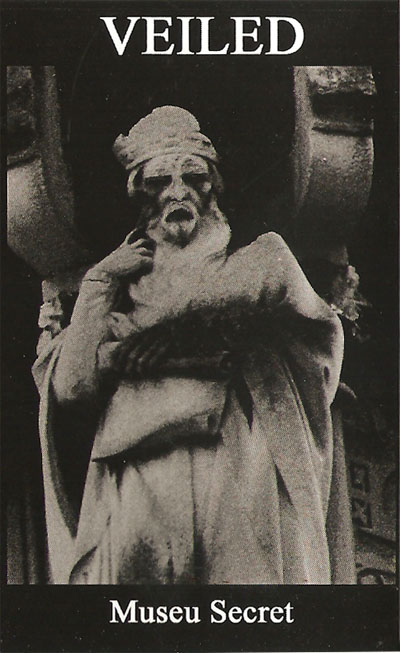 Veiled – Museu Secret C24
Veiled is a duo of Robert Francisco – of M Ax Noi Mach, Angeldust – and Arnau Sala performing synth-pop mixed with subtle nods to power electronics. This genre mashup seems to be a rising trend with groups like Throat, Haus Arafna and Thorofon leading the way, not to mention the flirtations of Prurient and Cold Cave. Of course there has been convergence with synth pop from other power electronics as well, probably the worst offenders being Strom.ec and Irikarah. I say that with humor of course because I have to say I am a huge fan of this combination and I can see this being a great future for both genres.
Veiled however remains a bit more stripped-down and their minimalistic approach is very apparent on this quick tape. The core of the these tracks are the droning yet rhythmic synth pulses very much reminding me of characteristics you might find from Haus Arafna, yet the other elements you would expect are instead very much subdued. Subtle drum beats scratch at the edges, a bass pulse here and there might join in, only to slowly slink away out of site.
The sounds conjure a unique vision – a seedy S&M club, the weirdo in the corner refusing to take part in the festivities – not wanting to be touched. The watcher, the creeper. It's definitely building on some of the themes that Francisco already has been exploring in M Ax Noi Mach but it's taking a more musical and accessible approach.
The tape is short and to the point – no fat to be trimmed off here. This is almost-danceable dark synthpop with overt power electronic influences that seem to mesh together like missing puzzle pieces. Veiled are filling in the gaps between these genres and possibly doing it in the most scummy way possible. For the noise and power electronics fan who still has a touch of the tortured goth lying somewhere deep in their soul.
| | |
| --- | --- |
| Composition: | |
| Sounds: | |
| Production Quality: | |
| Concept: | |
| Packaging: | |
| Overall Rating: | |