High Aura'd – Mooncusser C32
18 February 2012
xdementia
No Comment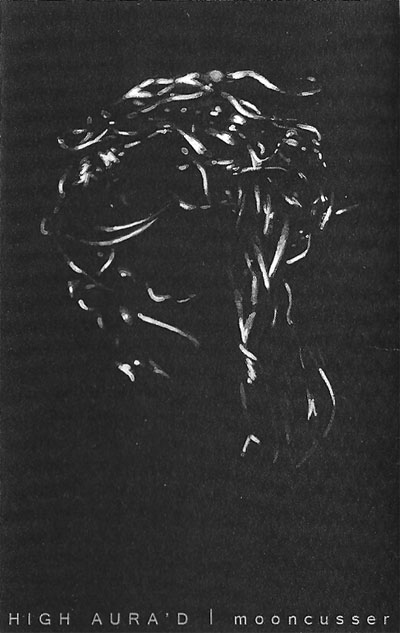 High Aura'd – Mooncusser C32
High Aura'd is a guitar drone project from Massachusettes and YDLMIER is a Boston based up-and-coming tape label. What they've created with Mooncusser is about 30 minutes of flowing harmonious lo-fi and noisy drones reminding me much of Labradford and Flying Saucer Attack.
The music here is drenched in a light distortion, consists of repetitive tones sweeping in and out of very slowly moving melodies. It is basic, yet has depth and the form begins to emerge with each repetition. There are always subtle tones added along the way which keep things moving. There are moments where the guitar breaches the surface and it is more apparent that this is the instrument that is being used. You won't find any vocals here, this is simply instrumental.
There is definitely a big post-rock element to the material here, yet it's not extremely overt and High Aura'd manages to keep it in check. Just when things begin to get too musical, there is a swell of loud drones and organized noisy delay lines. I really enjoy the general mood of the piece, it's loud but not abrasive, melancholy yet not sad, and dark yet not creepy.
This is definitely good work considering the main source material is guitar. High Aura'd never tries to beat you over the head with solos, or wank-fests. Everything is kept in check and consistent in atmosphere and execution. This one goes to the drone fans out there, for fans of Troum and Locrian.
| | |
| --- | --- |
| Composition: | |
| Sounds: | |
| Production Quality: | |
| Concept: | |
| Packaging: | |
| Overall Rating: | |