Churner – The Eyes Stared Back At Me CDR
19 February 2012
xdementia
No Comment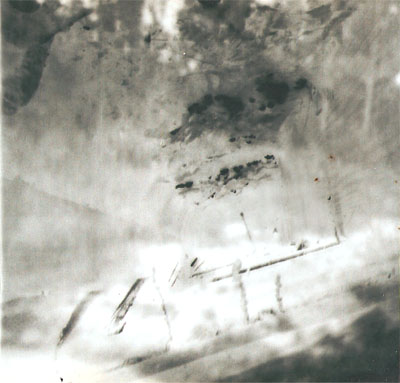 Churner – The Eyes Stared Back At Me CDR
Here's Churner again, summoning up some harsh noise walls in two really long tracks. Just a piece of advice for him before we get started: spellcheck is essential. The album title is actually spelled wrong on the packaging and it's certainly a cringe-worthy mistake. Someone has got to tell him that the past-tense of "stared" is not spelled "starred". It's even listed on his website as such.
Moving on (with effort), I've already described that this is wall-noise so that explains a lot right there. The quality is better than most wall-noise releases I've heard, it's nice and crunchy and there's a ton of low-end which is appreciated. The movement is palpable it's not so slow that you only realize the changes when you skip around on the track. It's seems to be mostly filter/eq movement, but hey at least it's there at all.
No Longer Alone is second after the title track and both clock in at 26 minutes. It sounds very similar to the first track with possibly a little more harshness in the high-end.
If you are reading this review you probably already know my stance on HNW – it's rare that I actually enjoy it. I can appreciate the sound quality on this one but compositionally it doesn't really do much for me.
| | |
| --- | --- |
| Composition: | |
| Sounds: | |
| Production Quality: | |
| Concept: | |
| Packaging: | |
| Overall Rating: | |