V/A – Tied to An Abuse 2xC50
11 March 2012
xdementia
No Comment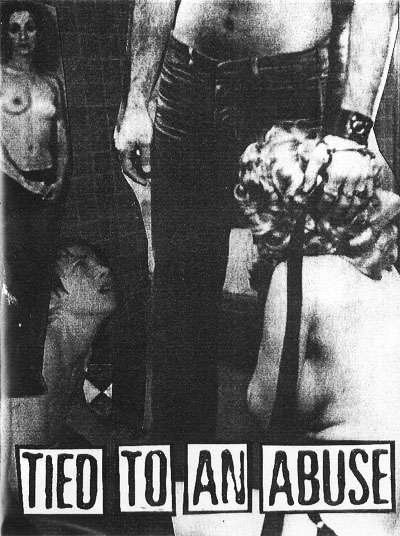 V/A – Tied to An Abuse 2xC50
Here is a fucking wet dream of an industrial and power electronics compilation which reminds me of the days of old with compilations like The Depth of Beyond that just packed a ton of great artists into a multi-cassette package. With 2 cassettes in this neat package featuring photocopied cut-up style artwork, this is in the true vain of filthy industrial aesthetics. It just blows my mind how many great artists are featured here.
I would go as far as to say that most artists really bring their best for this compilation, there's maybe just a few which don't quite live up to their regular bar of quality and I would say those are Taeter, Sick Seed, and Bizarre Uproar (the latter of which I'm not a big fan of anyways).
The first tape features an incredible lineup, Climax Denial kicking things off with Relax and Come Back To Me – some standard fair, droning pe. Then Cloama brings it up a notch with an excellent mix of experimentalism and distorted pe vocals in Sunshine. Always breaking the boundaries of the genre. Predictably one of my favorite tracks here is Propergal's Blunt Force Injuries which features a heavy pulsating synth background and lots of screaming samples along with heavy metallic industrial elements making use of editing and sound design.
Side B is a lot of harsh noise with the exception of the Steel Hook Prostheses track – which is a great showing of industrial-tinged dark ambience. So it's kind of odd that the only dark ambient track was squished into this harsh noise sandwich. Black Leather Jesus's Face Him and Accept His Demands is an enjoyable haze of twisted white noise as well.
Side C kicks off with Wertham's Council Flat another example of good work from this artist who hasn't impressed me in the past. The track reminds me a lot of Climax Denial's contribution but Wertham's vocal fx are quite interesting and there are some well placed samples that seem to illustrate the concept of the compilation succinctly. Eleczema's Because It's My Nature stands out quite clearly with it's synthy almost EBM rhythm very much in the style of his other project Strom.ec. The vocals are particularly lo-fi here and contrast with the other elements in the track which make it an interesting juxtaposition.
Side D makes for a powerful closer with Content Nullity's Through the Eye of a Child opening the side. One thing that strikes me as different is the vocal delivery. Relatively clean vocals with a slight bit of delay. But the production is really excellent on this track with great separation between each element, industrial hits, vocal drones, the screaming and chugging synth pulses. Taeter doesn't quite deliver the intensity that I was hoping for in Lower Trash. The vocals are accompanied by washes of distortion but the backing synths sound like rather generic presets. I was expecting a bit more from this artist as previous exposures were impressive. Iconoclasm is an act previously unknown to me but delivers a heavy layered track with Behind the Smile. A low electronic base pulse lies underneath a seething bed of noise and pulsating synths, with pitched-down vocal samples the track works quite well. Mold Crevice also represents here with two converging tracks to end things. They cross the line between death industrial and sound collage with muddled samples, industrial sounds and squirming synth work.
Overall an epic release, the packaging is worth mentioning as well as it contains a booklet with art for each track, inserts and contact info all fitting nicely into a padded double-cassette case. Nil By Mouth clearly knows what they are doing in terms of packaging. This is a great collection of artists and representation of material. Although the concept is rather well-tread in the power electronics world this still provides a fresh yet classic wealth of material.
| | |
| --- | --- |
| Composition: | |
| Sounds: | |
| Production Quality: | |
| Concept: | |
| Packaging: | |
| Overall Rating: | |