Chris Burns – Feedback Tabarnak CDr
13 March 2012
tankakern
No Comment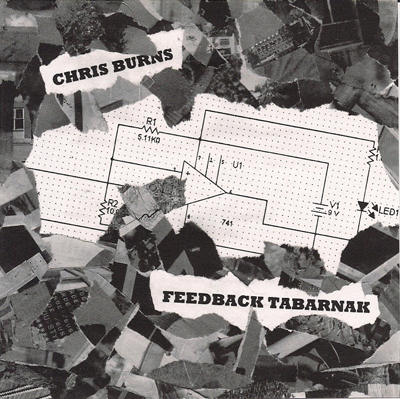 Chris Burns – Feedback Tabarnak CDr
Chris Burns is an artist that has been around for quite a while. Best known for his bout of success in the short lived 80s garage band Terminal Sunglasses, Feedback Tabarnak is his solo effort. Originally self-released on cassette in 2006 and re-mastered and re-released by Grkzgl on Brise-Cul Records, the sounds here consist primarily of lengthy, extensive drone pieces punctuated by avant garde noodling and free improvisation. While the sweeping guitar tones create a thick and heavy presence, Feedback Tabarnak really loses a lot of energy about 2/3 of the way through.
The first half of this album holds the most presence. Thick and tone heavy, the sound is lo-fi and very warm. The inclusion of every sound produced during the recording of this album even adds a bit of a field recording feel to the sound. The drones are tense, subtle, and quite beautiful. Burns initially allows them to take their time to evolve. The introduction here is very slow and plodding, but works exceptionally well. The high pitched tones and buzzes do a lot to build and swell the piece. Burns lets the guitar resonate, creating some truly beautiful analog moments. Burns is not afraid to just let the tones do what they are going to do, making the drones feel very natural.
Unfortunately, about halfway through Feedback Tabarnak, Burns takes the emphasis off of the drones and takes to some free improv noodling and even some percussion on the second track. This works alright at the beginning, but any power is stripped from the tones and makes Feedback Tabarnak extremely redundant and somewhat hollow in the end.
While Feedback Tabarnak starts out with a lot of energy and potential, I don't really feel as though that energy is ultimately resolved. The sound just doesn't stay interesting the entire time, and while Feedback Tabarnak has some real golden moments, as a whole, it doesn't really pique my interest too much.
| | |
| --- | --- |
| Composition: | |
| Sounds: | |
| Production Quality: | |
| Concept: | |
| Packaging: | |
| Overall Rating: | |