Dan Of Earth – Shed A Soft Mongoloid Tear CDr
13 March 2012
tankakern
No Comment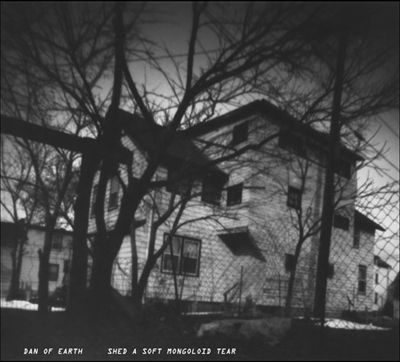 Dan Of Earth – Shed A Soft Mongoloid Tear CDr
Dan of Earth's 2010 recording is weirder than ever. Shed A Mongoloid Tear takes on a much more understated feel than what I have heard from Dan so far, and he pulls it off magnificently. Bass-y undertones punctuate altered field recordings and the vibe throughout takes on nearly a dark ambient feel without resorting to the typical, one dimensional wispy tones. But don't be mistaken, Dan's work here is still very ghostly and haunting in its own way.
One of my favorite things about Dan of Earth is that he captures the art of keeping things terse and succinct. The total length of this album is right around twenty minutes and Dan manages to get the point across in that amount of time beautifully. He manages to allow the listener a short glance into his world without drawing one in too much.
The span of sounds here is really what makes this album shine. From cut up radio samples to thick, flowing drones, to percussion based industrial tendencies to altered birdcalls, Shed A Mongoloid Tear spans several vibes from substantial and deep on It Is The Golden Hour to minimal and strange on Carrizo Plain; the flow between tracks works well. The listener isn't presented at all with anything repetitive or dull; Dan constantly changes it up while tastefully repeating certain elements. The only complaint I have about this album is that the last track, Tourette's Machine, takes on a more synth based sound and draws away from the sound a bit.
Overall, Shed A Soft Mongoloid Tear is a weird and wonderful piece and possibly some of Dan of Earth's best work.
| | |
| --- | --- |
| Composition: | |
| Sounds: | |
| Production Quality: | |
| Concept: | |
| Packaging: | |
| Overall Rating: | |