+DOG+ – Forced Morality CD
14 March 2012
tankakern
No Comment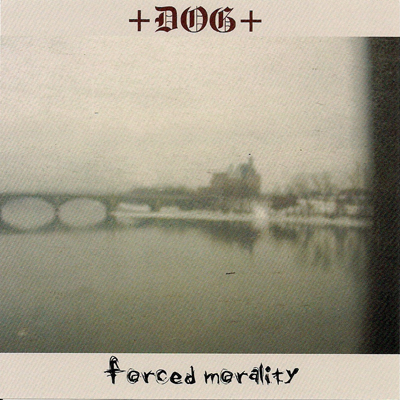 +DOG+ – Forced Morality CD
Love Earth Music
Forced Morality is one of +DOG+'s latest recording and the artist presents their typical fare of harsh, diverse power electronics on this release. Though Forced Morality is a little slow to start, overall, this release is a solid, brutal bout of aural assault while tastefully dipping into territory that could be described more as brooding than hostile.
The album starts out with Generation XXX, a pretty typical track of pulsating industrial noise with bits in the background to accentuate the sound. It borders on HNW and is a low end piece with lots of clanking and scratching details in the sound. This track doesn't really deviate from the typical but once one is beyond this, Forced Morality really begins to shine.
Gutterman Research is the first track to really showcase +DOG+'s diversity on this release. The sound is a blown out melodic drone; melodic yet still very dark. The Obvious is another drone but this time much more flowing and features some echoing, distorted vocals. The mood here is tense and is one of the most intense tracks on here. Mingled is another powerful drone piece and presents the most emotion throughout. Scrap sounds and vocal samples meet the spaced out tones and provide a very moving compositional juxtaposition. Satan Sings For Etan is probably the strongest track. This is an incredibly heavy power electronics piece and sticks far closer to tradition. The sound is subtle and drone-y yet the vocals are absolutely vicious. Rumbling scrap sounds meet the drone to create a very tense atmosphere.
Forced Morality is a release that one must stick with to really reap the rewards found here. +DOG+ presents a lot of different sounds here, and while all of them are united in lo-fi grittiness, one must listen to Forced Morality as a whole to really take in all the aspects of this very solid release.
| | |
| --- | --- |
| Composition: | |
| Sounds: | |
| Production Quality: | |
| Concept: | |
| Packaging: | |
| Overall Rating: | |