En Nihil/Gnawed – The Fall of Humanity C36
17 March 2012
xdementia
3 Comments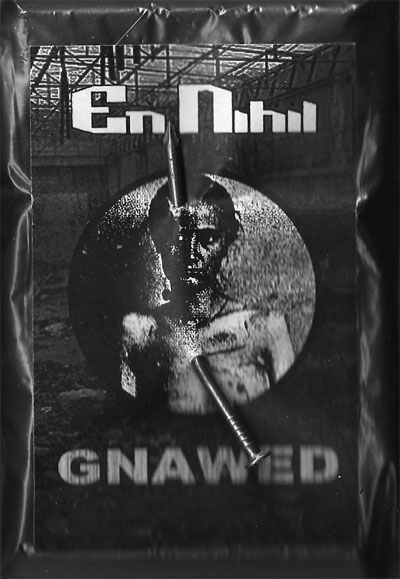 En Nihil/Gnawed – The Fall of Humanity C36
Two great acts team up for an insane noise tag team on this split cassette. En Nihil is a veteran of noise/industrial while Gnawed is a relative newcomer. Once again Nil By Mouth kills it with the extra touch on packaging, a black plastic bag and a huge nail piercing the front.
En Nihil is featured on side A presenting 3 tracks of heavy chugging noise. It's like a hurricane that's on fire pummeling at the walls of your concrete fallout shelter. The sound is lo-fi but also thick and destructive. With plenty of metallic resonance, yet with thick distortion. This is ambient noise through and through. I like the textures and extra sound design involved in the tracks but perhaps there could be more clarity to some of the recording. It's not my favorite work by En Nihil but it still does the job.
Side B makes me question what's up with the quality of the tape here because all the Gnawed material I've heard has been of great quality, but these two tracks are extremely lo-fi and don't hit nearly as hard as Gnawed has in the past. It could be intentional. There's a lot more squiggly synth textures in the first track Scum Removed. In the second track Solution everything sounds like it's thrown through a low-pass filter which ebbs and flows as the track goes on. There aren't enough high frequencies for my taste and the material lacks the impact I was expecting.
This split had the potential to be phenomenal but it's definitely not great work from either artist. The presentation is great, the sounds are ok. This is one for the collectors.
| | |
| --- | --- |
| Composition: | |
| Sounds: | |
| Production Quality: | |
| Concept: | |
| Packaging: | |
| Overall Rating: | |