Astro – Synthetic Spectra C60
17 March 2012
xdementia
No Comment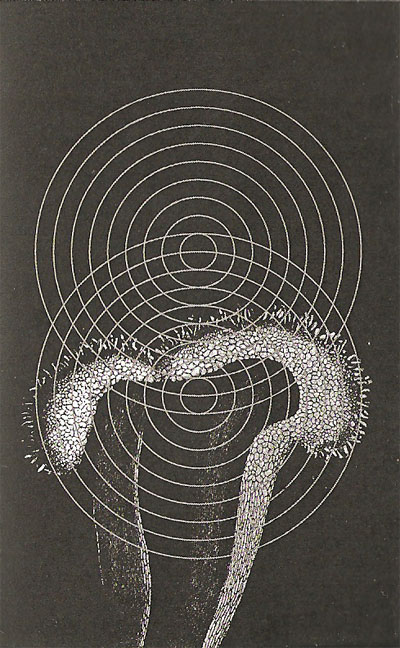 Astro – Synthetic Spectra C60
I have to admit I'm a little more ignorant than I should be when it comes to the Japanoise scene. But I at least can say that not only do I know that Astro is Hiroshi Hasegawa also of C.C.C.C., but also that I have witnessed him perform live as well.
It seems that the Astro sound is one of mostly harsh noise culled from modular synthesizers and the material I've heard before hasn't really won me over. Synthetic Spectra however is a new beast and one that simply cannot be reckoned with. Although I wouldn't know it, Side A is broken into two tracks being named simply Synthetic Spectra 1 & 2. It is total harsh noise with a synthesizer as the main sound source, but it works. Spastic at times, at other times slowly moving – somewhat remind me of Space Metalizer-era Merzbow – Astro explores his sounds from every possibly angle, with no leaf left unturned. It's enveloping and overblown but works perfectly.
Side B features Live in Beijing and is by far the best Astro material I have heard. Beginning as a standard grim low drone, the piece elolves into darkened crusty noise and finally into foreboding layers of blackened distortion. This piece strikes me as really dark stuff – very creepy with a rotting industrial-type edge to it – but at the same time meandering between drone and harsh noise. It's very competent material with a ton of texture and ferocity, not to mention excellent control over the sound. At no time does it go into a place that reeks of amateurism.
This tape tends to be a bit on the longer side, which does perhaps hurt side A but side B clearly benefits from the wealth of material. This is a master at work and the mark of an artist truly coming into his own.
| | |
| --- | --- |
| Composition: | |
| Sounds: | |
| Production Quality: | |
| Concept: | |
| Packaging: | |
| Overall Rating: | |