Holzkopf – Sober Materials #2: Not By Power CD
19 March 2012
xdementia
No Comment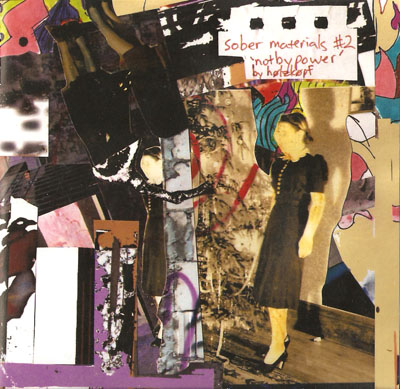 Holzkopf – Sober Materials #2: Not By Power CD
Holzkopf may not be a name familiar to fans into the more hardcore power electronics and industrial but Jacob Hardy who now resides in Vancouver, BC creates a unique flavor of dance/electronica that flirts with such styles as noise, power noise, electronica, techno, and reggae. To any reader I think this may sound like a total clusterfuck, but the catch – GASP – it's actually really good.
What you can expect from the sounds of Holzkopf is the steady thump of a drum machine, maybe a synth layer or two with blasts of distortion and feedback layered on top quite musically. Along with all this are his heavily affected vocals singing along yet being drowned in the raging sea of distorted effects. The rhythms here aren't your typical club fair though – Hardy is adept at keeping things unpredictable yet not so complex that this falls into free improv or experimental – it is still very danceable.
Having had a chance to witness Holzkopf live I can tell you these sounds are culled from shitty Radioshack devices, old drum machines, a mess of broken gear that results in disgusting varieties of feedback and finally some old beat up microphone. But despite the seeming mess of gear Hardy has an impressive amount of control over his sounds, layering effectively, changing rhythm and blasting pitched and non-pitched feedback at just the right moments
It would probably be easiest to compare Holzkopf's work to Dan Deacon but the sound, composition and aesthetic is far removed from what Deacon does that it just doesn't really seem to do Holzkopf justice. I would say this is more like a pairing of Pan Sonic with Converter and add to that vocals from Suicide mangled for the new millennium and you have Holzkopf. Not my regular listening area but undeniably a great release.
| | |
| --- | --- |
| Composition: | |
| Sounds: | |
| Production Quality: | |
| Concept: | |
| Packaging: | |
| Overall Rating: | |