Endless Bummer – Fritzl CDr
20 March 2012
tankakern
2 Comments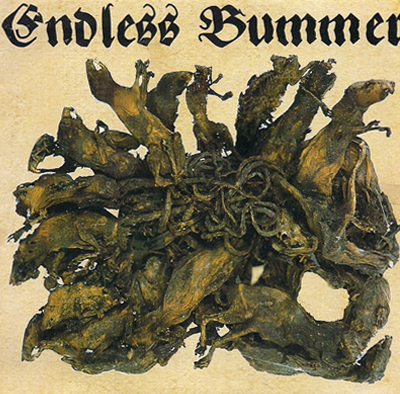 Endless Bummer – Fritzl CDr
Endless Bummer is a project involving Grant Richardson, the man behind the brutal Minnesota power electronics act Gnawed. Endless Bummer is a quite accurate moniker for this project, because Fritzl is a very depressive, slow moving piece. Consisting of heavily distorted, drawn out riffs, this is doom, sludge, noise, and ambient all meshed together to form a massive titan of heaviness.
Fritzl is pretty repetitive and extremely drawn out, but it really works. Everything sounds so hateful and plodding; Endless Bummer hammers the same riff over and over drawn out over an hour. Everything is dismal and gloomy. The sluggish tone basks in noise washes and feedback, creating a very dense and opaque sound. Wails punctuate the wall of bass and desperate spoken word vocals creep in about halfway through.
While Fritzl may be too slow moving for some, fans of weird drone-doom will love this piece. It evolves slowly and doesn't have much in terms of sound diversity, but what is present is very weird and heavy. Not much movement is present here but this is doom extrapolated to its weirdest, distorted, and most abysmal degree.
| | |
| --- | --- |
| Composition: | |
| Sounds: | |
| Production Quality: | |
| Concept: | |
| Packaging: | |
| Overall Rating: | |