Wilt – She C73
30 March 2012
xdementia
No Comment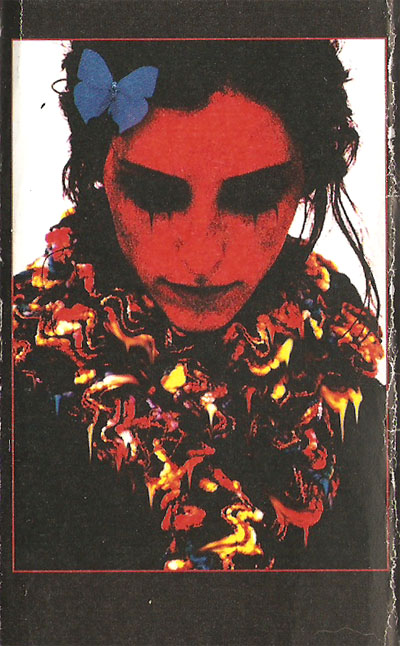 Wilt – She C73
Here's a new mammoth release from Wilt which features some sickened black noise. Before delving into the sounds here the artwork is quite enjoyable with a dark black/red scheme but some nice blown-out colors in the cover image.
The tape starts off rather slow with The Soil Begins to Smother Him which features a hefty weight of low tones and some softer distorted layers on top. In A Blanket With the Density of a Falling Sun Wilt bring things to a new level with surging industrial toms and epic electronic harmonies. There are some great moments here where pitched feedback forms intricate melodies which is really interesting and engaging. The title track She is a great mix of slowly evolving industrial hits which eventually works its way into moments of dirgy blackened grit.
Side A already features a lot to take in, and when we begin into side B we are met with yet another low-toned track on A Slow Opening Within Her with windy drones meandering on top. The tracks on side B aren't as interesting with more low wispy noise mostly, although things become quite active again in The Nightside of Eden with frantic synth arpeggios and disembodied whispering somewhat reminding me of Burial Hex.
A huge issue for me on this tape is the terrible production. I can't really tell if it's the result of the direct material or dubbing but this is extremely muddy, the higher frequencies sound extremely muted and there is so much detail that seems like it is lost due to the production. It's too bad because it dulls the impact of the better tracks here and makes the more minimal tracks somewhat dry. Some people may like the lo-fi vibe of the tape, I can't really say, but it's certainly not for me.
Because of the production it's tough to tell how this material actually stands up but it's safe to say that there is some really great stuff here mixed with some other tracks that are rather dull. Definitely a mixed bag, but perhaps one for fans who like their noise blackened to a crisp.
| | |
| --- | --- |
| Composition: | |
| Sounds: | |
| Production Quality: | |
| Concept: | |
| Packaging: | |
| Overall Rating: | |