Marax – My Suicide Note Penned in Sound CD
31 March 2012
xdementia
No Comment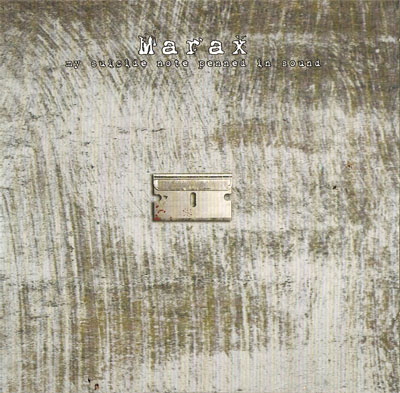 Marax – My Suicide Note Penned in Sound CD
Marax is an extremely prolific artist since '99 yet it's a surprise that I've never come across his material before. My Suicide Note Penned in Sound is packaged in a simple paper slip-case with gritty textures and sparse text which reflects the sound well.
The disc is one long track of hallowed drones slowly changing with wind-howling textures lurking beneath the thick core. I believe this music will appeal to drone heads as the sparse variation stays the same throughout the piece.
Personally listening to an hour of almost the same thing isn't the style of minimalism that appeals to me, but I will attempt to deduce the concept here; life is emptiness, repetition and futility. Of that however, I know, I'm living it. So it is that this disc just doesn't interest me much.
| | |
| --- | --- |
| Composition: | |
| Sounds: | |
| Production Quality: | |
| Concept: | |
| Packaging: | |
| Overall Rating: | |