Darsombra – Deliriums & Death 3″CDR
8 April 2012
xdementia
One Comment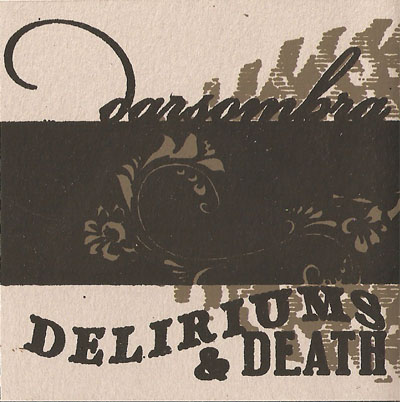 Darsombra – Deliriums & Death 3″CDR
This is an older disc yet it's my first exposure to Darsombra. Clocking in at 14 minutes there's not a whole lot of material to go by, but with two solid tracks it delivers.
It sounds like Darsombra fits into the guitar drone/metal mold quite well, taking queues from such groups as Earth, Sunn0))), and Nadja. The composition is quite musical in nature in Peripheral, the first track. But this is very well composed with effective multi-tracked guitar layers and dirgy chords which make their way to a repetitive chug. The icing on the cake here is the impressive subtle melodies on top in solo style.
Eyes in Eyes is the second track and it leads into a much more experimental/industrial realm. I was relieved to hear a different tone to this track because it changes things up nicely. This track is also very well composed in it's own style and features a throbbing rhythmic core with echoing spoken samples layered on top creating a creepy atmosphere.
Deliriums & Death is a solid disc featuring some of the best guitar drone I've heard. I like the variety of the two tracks, they're different but they compliment each other well and flow effectively. The production on here is also worth mentioning, it's clear and well mixed yet not over-the-top produced or suffering from lo-fi muddiness.
| | |
| --- | --- |
| Composition: | |
| Sounds: | |
| Production Quality: | |
| Concept: | |
| Packaging: | |
| Overall Rating: | |