Reviver – Total Load Shed C30
10 April 2012
xdementia
No Comment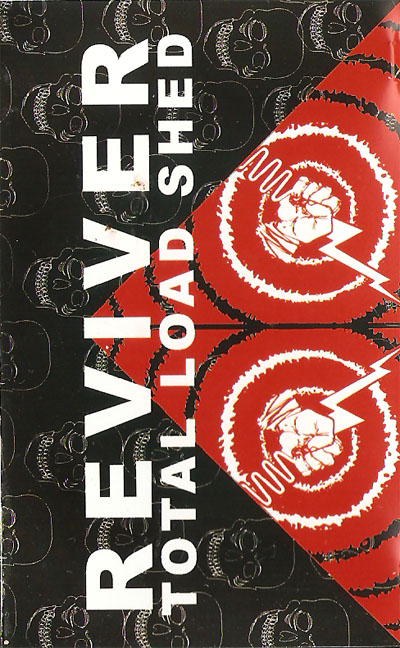 Reviver – Total Load Shed C30
Here's another great offering from Reviver this time from Telecult Power's label Temple of Pei. With simple credits: Chris Donofrio = graphic eqs, this tape is more on the minimal side of Reviver's work.
As the label describes it, "oceans of electricity drowning anyone stupid enough to fuck with it. What if Nicola Tesla smoked DMT?" I would say that's not far off. The electricity element is palpable here, it the wavering pulses and growling drones really make my hair stand on edge. Even just within side A there is a great variety of tracks yet it's strange to hear the similarity in each while reconciling this. It's part of what makes Reviver's sound so intense and cohesive though.
Side B continues the depravity. Each track clocks in around 2-3 minutes with slight changes and evolutions to each track, some with more of a stasis than others. When listening it's apparent that as the album goes on the tracks evolve more and more. Even within the constraints of Reviver's vision Donofrio proves differing moods are possible with one track featuring a harmonious drone in a seemingly major key, followed by a harrowing and chilling piece that closes the album with a call of doom.
Yet another solid addition to the Reviver catalog. The quality of the sounds and production is immaculate as usual and the style is as focused as ever. With all the short tracks the release almost comes off as a collection of "songs" or rather movements. Very nice work.
| | |
| --- | --- |
| Composition: | |
| Sounds: | |
| Production Quality: | |
| Concept: | |
| Packaging: | |
| Overall Rating: | |