Mourmansk150 – La Guerre, L'Anarchie Et Le Chaos CD
11 April 2012
xdementia
No Comment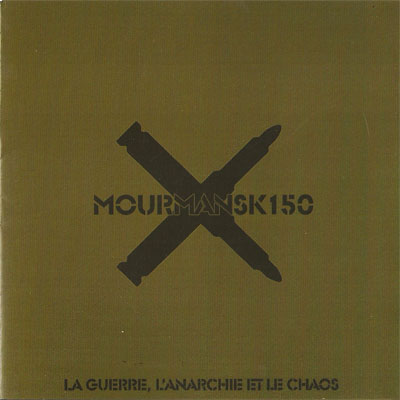 Mourmansk150 – La Guerre, L'Anarchie Et Le Chaos CD
Here is the first proper CD release from this now infamous European power electronics act. Mourmansk150 takes its queues from such acts as Militia, Brandkommando, Strom.ec with a new school take on power electronics and industrial. La Guerre, L'Anarchie Et Le Chaos is a record that has already become infamous for various reasons. For starters it includes a pure shit-talking track entitled "Fuk Miko Aspa" (sic) – I say pure because the lyrics don't really flesh out any good reason for their hatred – so it seems that they are either making a special effort to be vague or just enjoying stirring up drama. Either way it comes off as quite tongue-in-cheek yet I think this is something we need more of in power electronics and I fully endorse it!!
The bulk of the disc features various synth elements, many of which are somewhat rhythmic. It sounds like a variety of synths are used, probably most of them digital but with an array of pedal effects, distortion and feedback interwoven within. The effectiveness of the tracks really begin to pick up when Mourmansk150 drifts into more bouncing industrial realms a la Haus Arafna with Unsalvageable and Soleil Orange two excellent tracks..
With La Guerre, L'Anarchie Et Le Chaos Mourmansk150 offers a solid release of clean sounding power electronics and industrial. The spoken samples and anarchist undertones are hard to ignore. The disc is full of memorable moments and interesting passages that definitely make it an engaging listen. There's a lot of good work happening here but also plenty of room for improvement.
| | |
| --- | --- |
| Composition: | |
| Sounds: | |
| Production Quality: | |
| Concept: | |
| Packaging: | |
| Overall Rating: | |