Hive Mind – Elemental Disgrace LP
14 April 2012
xdementia
No Comment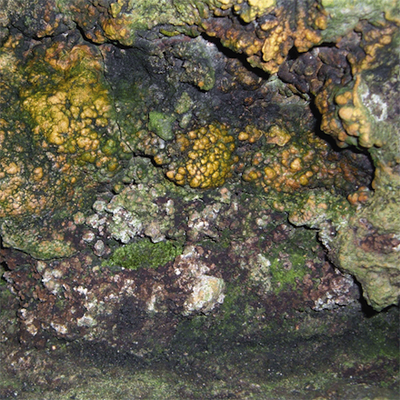 Hive Mind – Elemental Disgrace LP
Here's a heavy full-length from the former Detroit resident, now L.A. wunderkind Greh Holger. The LP is nicely packaged with full-color cover and shiny print along with heavy gram white vinyl. Quite classy, and apparently falling into the category of the "Spectrum Spools" series of the label.
Elemental Disgrace sounds like it is 100% synthesizer but the sounds Holger is able to cull from his machines are varied, and lie heavily on the subconsious. Perhaps the sound that would occur if you brought a steamroller up to the moon and drove around and if space wasn't a vacuum and you could hear things there. Althought the cover has this gritty organic feel this has quite an electronic vibe. The low pulses and grit that Hive Mind is able to achieve on side A are unparalleled and just heavy as fuck.
Side B features more frequencies in higher ranges yet things also sway through the spectrum of bubbling drones. Despite this having an air of minimalism attached to this there is a wide variety of sounds presented and the piece moves – through masses of sound clouds – rather frequently yet effectively.
Elemental Disgrace is definitely a solid work and one that shows that Hive Mind is refining his sound with tact and precision. The evolution to these tracks is palpable and the mood is one that is unrelenting. The production is top-notch with devastating frequency range, rumble, and seering highs. A great release.
| | |
| --- | --- |
| Composition: | |
| Sounds: | |
| Production Quality: | |
| Concept: | |
| Packaging: | |
| Overall Rating: | |