Sudden Infant – Inner Storm C30
21 April 2012
xdementia
No Comment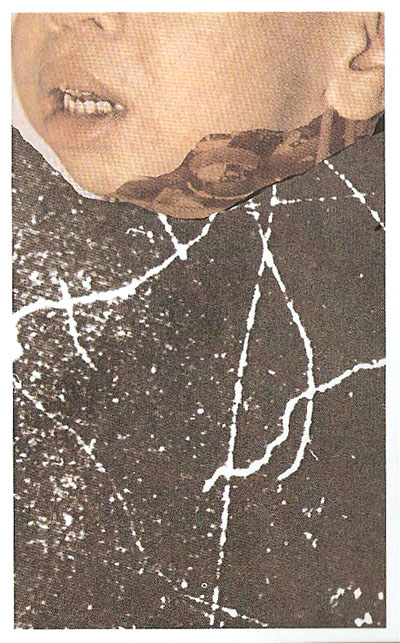 Sudden Infant – Inner Storm C30
Joke Lanz is back with his brand of dadaist aural blasphemy. Once again coming from the Blossoming Noise camp who seems to be able to consistently churning out quality releases. Inner Storm's graphics features a simple collage with sparse text and information, the focus clearly on the music here.
What Sudden Infant delivers is his usual style of insane audio terrorism but with a variety of new and different sounds woven in. The tracks here all have a repetitive rhythmic core with layers of noise and sound effects sprinkled on top. Some prominent elements are always Joke Lanz' manipulated voice, a loungy flute call, burps, porn samples, tape manipulations and a wide variety of feedback textures and distorted chugs.
The base of the tracks range from Muslimgauze-like tribal drumming to churning industrial loops and experimental outings that feature a palpable evolution which goes to show Lanz' experience and aim in creating his sounds. Of course the concepts are still here. In one track Lanz declares "I knew a girl, friendly and nice. and works off of that phrase for the remainder of the track, chopping, shifting, stretching, and scrambling it until it becomes some strange mangled blender of words.
This is yet another great chapter in the book of Suddan Infant and long-time fans won't be disappointed. More great and original work from this strange yet excellent artist.
| | |
| --- | --- |
| Composition: | |
| Sounds: | |
| Production Quality: | |
| Concept: | |
| Packaging: | |
| Overall Rating: | |