Steel Hook Prostheses – Cut off the Nose to Spite the Mouth 2xCD
1 May 2012
xdementia
No Comment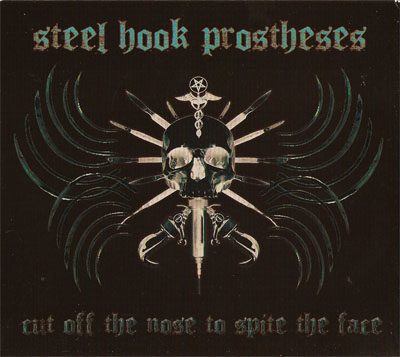 Steel Hook Prostheses – Cut off the Nose to Spite the Mouth 2xCD
Here is a mighty 2 disc set of reissued material from the ever bleak Syzmic Records camp. Delivering 100% dark and hopeless sounds here Steel Hook Prostheses is as unforgiving as ever in their apocalyptic vision. Coming housed in a pro digipak with simple artwork the packaging comes off with a succinct retrospective feel.
Disc one contains the releases Sadistic Surgery, Cold Embrace of an Iron Lung, Controlled Sense of Decay all released in 2003 and 2004. The tracks are a perfect example of SHP's death industrial leanings while most remain unobtrusive enough to file under dark ambient. One of my favorite tracks here is Untold Atrocities which features an exemplary execution of flowing soundscapes. As with most of SHP's material the vocals are usually quite prominent in each and every track and they have a unique feel each time, being quite separated from the noisy core and industrial hum of the soundscapes.
Disc two ups the ante a bit with an all-out noisier cavalcade of tracks. The releases featured on this disc are Hollow Eyes Behind a Sterile Mask, Violent Cutting Motion, and then a handful of live tracks. I really enjoy the variety presented on this disc, from Vehemence a dark track that builds to a driving, almost techno synth rhythm, to Violent Cutting Motion which is probably the noisiest and most intense track on the two disc set, and finally to the closer Live At The Firehouse Gallery which is an anthemic dark ambient drone track never rising to an aggressive level, but keeping in an obscenely creepy atmosphere for its entirety.
This is a great set with the first disc perhaps being a touch forgettable – due to it's unwavering consistency in style and sound – but the second disc easily giving Cut off The Nose to Spite the Mouth some bang for your buck. Plus, it's great to have a few of the releases I've missed on hardcopy, as well as all these collected into a box set.
| | |
| --- | --- |
| Composition: | |
| Sounds: | |
| Production Quality: | |
| Concept: | |
| Packaging: | |
| Overall Rating: | |