Sanctimonious – Hypocritical Sages C24
4 May 2012
xdementia
No Comment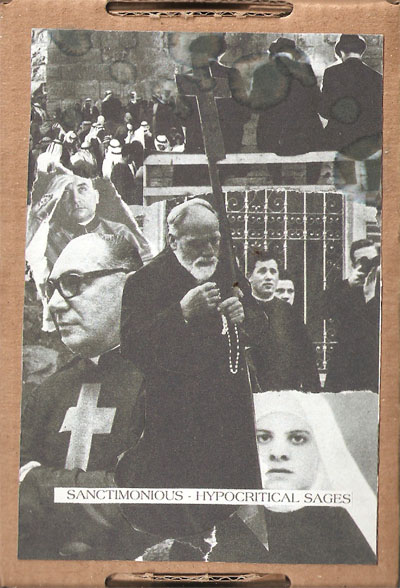 Sanctimonious – Hypocritical Sages C24
Here's a quick tape of very lo-fi and primitive power electronics. Housed in a cardboard box with a fold-out poster inside and a sticker on the front the packaging is as simple as the music.
The first thing I notice is that the sounds are not very creative at all. Standard pedal feedback, delay, some metal banging here and there. There's a lot of boring feedback drones, things that sound like they might be the result of homemade instruments or circuit bent pedals. Always screamed and distorted vocals over the whole thing with little or no evolution in the tracks or the album.
I just find this really boring, it comes off as being nothing more than an exercise in the genre of power electronics. This is one for the traditionalists but if you listen to PE at all you've already heard this a dozen times.
| | |
| --- | --- |
| Composition: | |
| Sounds: | |
| Production Quality: | |
| Concept: | |
| Packaging: | |
| Overall Rating: | |