Cloama – Municipality of Marionettes LP
13 May 2012
xdementia
One Comment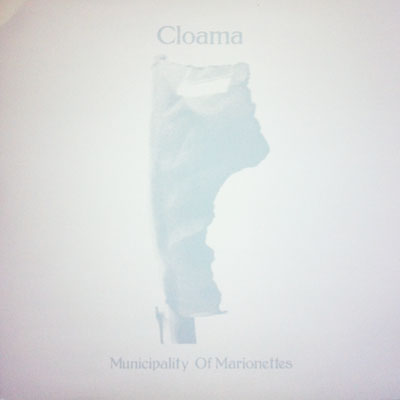 Cloama – Municipality of Marionettes LP
Here's the latest offering from Finland's Cloama. This massive LP covers a mix of his more power electronics/noise influences and his drone and electroacoustic influences.
Splitting side A into 4 tracks things are kicked off with Municipality of Marionettes Pt. 1 which features noisy layers of texture over beautiful harmonic drones. Transgressions of the Mountain Lord immediately starts off on a different note with droning feedback, industrial sludge, and PE vocal deliveries. Once again reminding me of the odd amalgamation of sounds that makes up Cloama's style – this is very nontraditional power electronics.
Municipality of Marionettes Pt. 2 is back to sounds which could be guitar, or synth drones. Noisy as well reminding me of the style of later Aluminum Noise – Jason Crumer's first noise project) – and Cold Electric Fire (references that probably date both myself and Cloama). I really appreciate the forward movement in the sounds here and the somber atmosphere that is achieved. The closing track Fierce Wrath is quite succinct and heightens the emotions with extremely well composed slow chords and droning noise. Muffled vocals layered in and buried under the mix brings things to an climax (I kind of want to coin the term "Cloamax" here) with wallowing harmonies.
Just when I thought things couldn't get any better Cloama delivers a mammoth full-side track entitled Sellaista kuolemaa ei ole which breaks in with a more electroacoustic sound before the eerie backdrop is shattered by the most ungodly female vocals I have heard short of Diamanda Galas. I was actually listening to this once really loudly and since it starts off kind of quiet when the scream first came in I almost jumped out the fucking window because it took me off guard. It's just such an unnatural and blood-curdling sound. There is no telling how far Cloama will go though, and within minutes the track has acheived a throbbing pulse of synth attacks and death industrial destruction. Eventually flowing into more electroacoustic and varied passages Cloama really flexes his talents here in every direction. The female vocals are featured in various forms over this long varied track and gives it a fantastic atmosphere truly creating something unique.
One weakness of the release is the packaging is rather weak, wich a lackluster design and missing that Freak Animal edge that usually plagues the labels releases with so much animosity. Yet Municipality of Marionettes is yet another explicit chapter and further testament to the originality and uncompromising vision of the Cloama project. Excellent work.
| | |
| --- | --- |
| Composition: | |
| Sounds: | |
| Production Quality: | |
| Concept: | |
| Packaging: | |
| Overall Rating: | |