2673 – A Saffron Wasteland CDR
16 May 2012
xdementia
No Comment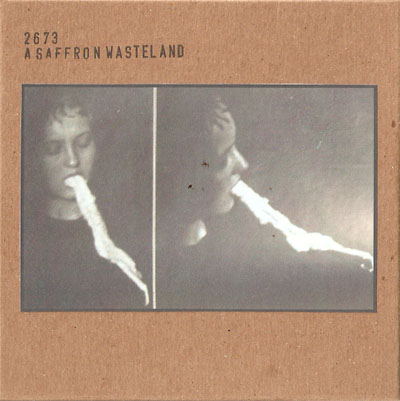 2673 – A Saffron Wasteland CDR
Here's another dose of minimalism from 2673 and I'm happy to report that this time it works quite well. The tracks are untitled here which leaves little interpretation for concept but the sound is somehow dense in it's sparsity.
8:31 kicks off with high pitched harsh tones that alternate in sound finally dipping down to a separated bass/treble tone. I really enjoy how the frequencies fuck with your head. My hearing felt "off" somehow during and after this track. You can tell there's thought put into how these frequencies are arranged. The second track is probably the most active. There are actually some textures featured here, rather than just the plain tones. The sounds somewhat reminding me of what a foreign planet might be made to sound like in an old sci-fi film. Very smartly composed and atmospheric which makes me wonder what 2673 could do if he included more elements into his compositions.
The remainder of the tracks continue in this vein, pulling at the edges of my sanity and simply confusing my hearing and senses. The overall vibe is a quiet ambient one, but the frequencies teeter on the edge of my audible range of hearing as to always keep me on my toes. A very strange journey indeed.
| | |
| --- | --- |
| Composition: | |
| Sounds: | |
| Production Quality: | |
| Concept: | |
| Packaging: | |
| Overall Rating: | |