Hum of The Druid – Raising the New Wing/Braided Industry LP
1 March 2010
xdementia
No Comment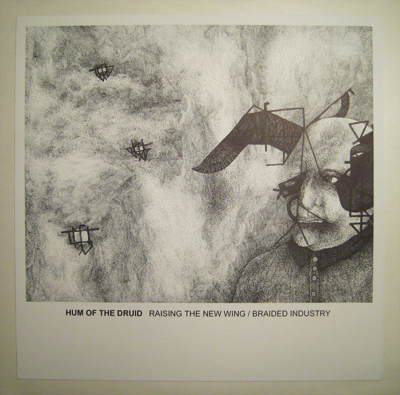 Hum of The Druid – Raising the New Wing/Braided Industry LP
Raising the New Wing/Braided Industry contains some of the scummiest, filthiest, rawest sounds I've possibly ever heard. Listening to this thing is like being dragged through an old rusty storm drain to only to emerge at a demolition site. This is truly industrial music. Hum of The Druid is Eric Stonefelt, not just a man talented in the realms of experimental music, but also in art and visuals.
The LP is quite beautifully packaged with artwork created by Mr. Stonefelt. Although I always prefer the artwork to be printed directly on the LP, the sticker that is pasted to the front this time is pretty big and very well detailed. Also accompanying this slab of vinyl is a pretty rad poster and a nice insert card. When the composer has this much control over the packaging you can't really go wrong.
The sounds of HoTD are very claustrophobic as he's not too keen on using much reverb. Although I do think he would benefit from using it a bit more, this material is still very effective without. There is a grittiness which is always present, like whatever machine he's recording which sounds like it's throwing off dirt and dust from not having been run in years upon years. The vocals here sound like it might be emenating from some abomination of a rust monster.
Although the tracks here and there have some sort of an ambient quality, with passages that are nothing more then humming atmospheres, these inevitably end up climaxing in a pummeling of debris. There is this weird natural atmosphere to it all, like it was recorded in a giant metal drum. But don't confuse my words with a lack of production quality here, as the sound is very detailed both in dynamics and spectra. You can hear each little piece of sand fall to the ground, and still feel the rumble of HoTD's mechanical army as they trample over you.
The sounds are definitely my favorite part of this release. You really can't here anything like this, even in a real factory. The composition doesn't quite catch my fancy as much and seems to make the sounds a bit more understated. Perhaps it's the lack of variety and contrast or it could possibly be in the bass. There is always this constant bass presence, which makes the recording feel full, but it takes away the intensity of some of the other sounds. Notwithstanding though, this is a great release both in vision and execution. Probably my favorite HoTD material so far.
| | |
| --- | --- |
| Composition: | |
| Sounds: | |
| Production Quality: | |
| Concept: | |
| Packaging: | |
| Overall Rating: | |