Sunken Cheek – Depths C30
18 May 2012
tankakern
No Comment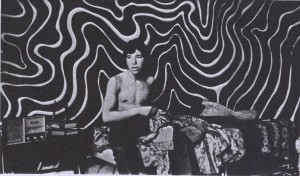 Sunken Cheek – Depths C30
Sunken Cheek is a Syracuse noise act, and this tape is his latest output. Variation is for sure present here and Sunken Cheek meshes harsh and sparse sections fairly adeptly. While it doesn't quite work always, "Depths" overall is fairly solid.
The first side is very minimal most of the way through, with scraping and clanking sound along with whispers that apparently are narrating a tale of habitat destruction, and while one would be unable to tell this as most of the whispering is buried enough to be near impossible to decode, it lends an activist edge to this tape.
Side A evolves into a full on harsh noise attack with shouted vocals after much clanking and spooky cuts of minimal noise. The noise on this section is hammering and the vocals are relentless. My only complaint is that the transition sounds kind of sudden and, I daresay, sloppy, but overall it works. The track then returns to the spare, groaning sounds of before but with more structure this time.
"Shell" takes on more of a buzzing drone with more whispers. This side isn't nearly as diverse and I would classify it simply as harsh noise; it's really nothing new.
Sunken Cheek presents some real sickened sounds here. Side A is much more effective and I feel like that idea could have been taken further on "Shell", but overall, "Depths" is a fine effort.
| | |
| --- | --- |
| Composition: | |
| Sounds: | |
| Production Quality: | |
| Concept: | |
| Packaging: | |
| Overall Rating: | |