Cincinnatus C – I Don't Have A Future/I Don't Want A Future CDr
18 May 2012
rainbowbridge
No Comment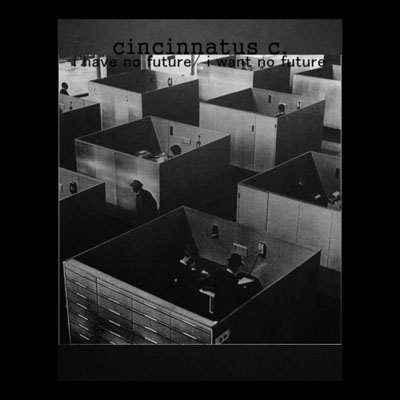 Cincinnatus C – I Don't Have A Future/I Don't Want A Future CDr
Self-Released
I have always been a fan of glitchy, strange, completely wacky yet tasteful feedback loop manipulation. It bores and annoys many people in the harsh noise scene, but I believe it to be more than possible to create soundscapes of this type to where they stimulate and even hypnotize. In the sea of feedback loop toggle-flippers and knob-twisters, Craig Hodgkins of Philly/Pittsburgh/DC stands out like a bruised apendage. This is especially because of other releases of his where a lot of varying sounds and methods are noticed, such as vocals (spoken word, vein-popping screaming, etc.), melodic guitar playing (acoustic and electric), keyboards, interesting movie clips, etc.
However, to get back to the point, we will focus on this release alone.
This album is full of feedback manipulation with some other things not too distinguishable. I would say that looping is apparent, but Craig claims none was done. These sounds could be mistaken for robot birds chirping, circuit-bent door bells ringing off the hook, amplified forks on plates and glass windows, all matched with the desperation and plain hopelessness the aesthetic of the album represents with titles like "I Have No Reason To Connect With Anyone" and "Wrong Life Choices."
Craig's material is as patient as it is chaotic, if you can wrap your head around that. The actual movements of frequencies and textures within these 4 tracks seem to sputter and glitch into oblivion abstractly, but they are timed, felt-out and thought-out. Mostly felt-out in this particular case. They begin and end in good form and timing, whether building into a totally new movement, or dying out to make room for a new track to start.
This could be mistaken for a new Nkondi release if you were told that the Portland, WA harsh noise solo act was getting more "experimental." It is a little further into the "weird" territory and away from the "aggression" that a lot of chaotic harsh noise artists dabble in, such as the work of the infamous Chefkirk and his impressive no-input work. All the "cut-up" sounds on this release are the result of live electronics rather than heavy editing. I've seen Craig live at least 20 times, and this is all stuff he can do with a tiny suitcase or pedals, kneeled on the floor.
If you don't like the "twiddling," you won't like this at all. However, if you're open-minded enough to attempt to perceive and understand the depth and sort of psychedelic darkness that I experience when I listen to this, I am excited for you! The only reason the composition aspect isn't getting a better score in this review is because Craig has released several albums after this, and they all exceed this one in every way. Yes, he's gotten even a thousand times better, if you can imagine.
The artwork is great, because it represents a lonely, dead-end life to match the music, track titles, etc. On the other hand, like most self-released Cincinnatus C releases (there are 4 or 5), the packaging itself (printing quality, plastic sleeves, cutting job, CDr artwork or lack thereof) is really half-assed. I understand Craig doesn't have a lot of resources or cash to be throwing around, but he could have put more effort into the presentation. The packaging truly hides what the sounds can offer. He could use some interested labels that believe in his work so that his full potential can be manifested in packaging as well as sounds. He is certainly an audio artist as well as a visual one (all of his artwork is great), but his actual construction of the packaging is always a fail in my book. Especially with this release.
So save yourself an ugly CDr on your shelf and download this out-of-print release here.
| | |
| --- | --- |
| Composition: | |
| Sounds: | |
| Production Quality: | |
| Concept: | |
| Packaging: | |
| Overall Rating: | |