The Changeless Round – Unspeakable 2xCDR
19 May 2012
xdementia
One Comment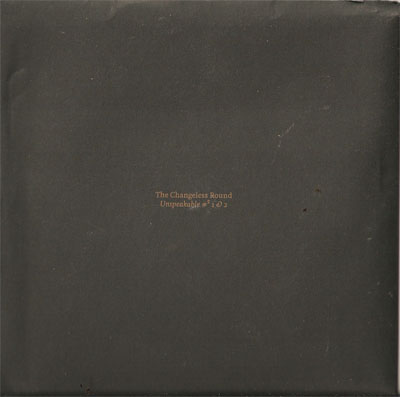 The Changeless Round – Unspeakable 2xCDR
Here's a rather enigmatic release from a label whose website appears to be long dead and there are little-to-no links about the project itself. Upon even setting eyes on the package containing these two CDRs one can see the minimalism seeping through, and so I prepared myself for a long journey.
Although the first disc has just one hour long track according to the booklet it is split into 4 movements which are actually quite audible. Each movement seems to have a particularly gaudy subtitle like broken cube of oil with sun shining on it or one thing* emerges, covered in milk @ oil, @ mathematically analyses the situation which seems to go against the carefully structured minimalism that the sounds and packaging try so hard to convey.
The second disc shows more interesting minimal developments with the first movement being an electroacoustic outing and the second movement employing hallowed drones that could be culled from a cymbal as a source. I really enjoy how slowly the sounds move in this track though and such a huge amount of space is perceived within the listening arena. Movement 3 is the epic track here clocking in at 22 minutes yet being more minimal than what has come before on this disc. Subdued ambience, muffled frequencies and strange textures make me think this must be how it sounds to sucked down a drain. Movement 4 recalls a similar sound to Movement 2 on disc 1 but with different accents. Yet the activity is increased here for a strong finish.
This 2 disc set is certainly strong work despite its slow start. A varied yet subtle collection of sounds and an intricate composition lacing things together. The unpredictability combined with the smooth flow is a great convergence of characteristics and makes for a very unique and enjoyable experience.
| | |
| --- | --- |
| Composition: | |
| Sounds: | |
| Production Quality: | |
| Concept: | |
| Packaging: | |
| Overall Rating: | |