V/A – Auris Apothecary Sampler #2 C45
22 May 2012
xdementia
No Comment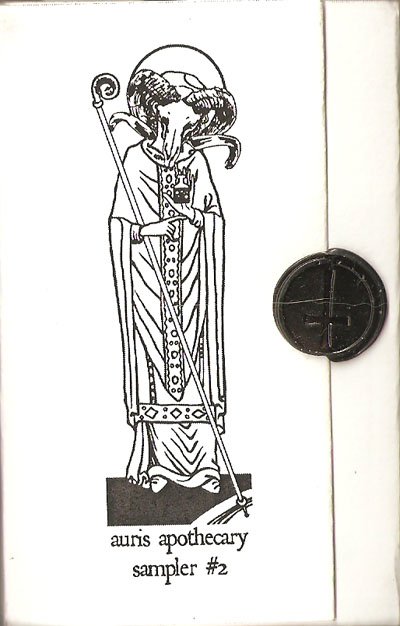 V/A – Auris Apothecary Sampler #2 C45
Here's a very eclectic offering from the excellent Auris Apothecary label. For those that aren't aware Auris Apothecary defines the concept of a boutique label with elaborate and artistic packaging, strange sounds, and an unwavering aesthetic. They are truly at the top of their game with this sampler smartly packaged in a folding case and sealed with wax. The sampler is also available online here for those who can't get their hands on the physical release or are too lame to have a cassette player.
The first 10 minutes or so seem to be dominated by garage rock style music which finally meanders into the weird with Sitar Outreach Ministry's The Rites of Spring which uses guitar and banjo to form a strange offbeat cover of Stravinsky's epic composition of the same name. Finally the garage rock culminates with Eddy Price's Swing Low, Sweet Chariot which harkens back to the time of malt shakes and soda fountains and sounds like it could've been a lost hit from Elvis Presley.
At this point the compilation becomes dominated with experimental and strange sounds which is of course what I'm here for. Rob Funkhouser's Lotus Unfolding is an excellent track that features multiple layers slowly taking shape out of a wash of distorted drones. Mike Williams' – also of EyeHateGod – track delivers some blistering and blown-out power electronics with aggressive vocals. Torture Corpse also adds a new element here with some cybergrind intensity and certainly stands as the odd man out.
Beginning to tone things down is Semilanceata with Hjærtestilla a bell-like delivery of guitars clanging in the night which is sure to deepen your depression. (((o))) keeps the dark closing in with Parte Cinco an industrial dirge with heavily distorted bass riffs and metal creaking pitched drones layered on top. And so it is that The Gentleman's Butcher closes down the night with a peaceful dronescape of harmonious tones.
Definitely a great and varied sample of sounds from this intriguing label. Recommended for anyone to check out because there's something for everybody here.
| | |
| --- | --- |
| Composition: | |
| Sounds: | |
| Production Quality: | |
| Concept: | |
| Packaging: | |
| Overall Rating: | |