Suburbia Melting/Cory Schumacher – Departure C30
24 May 2012
xdementia
No Comment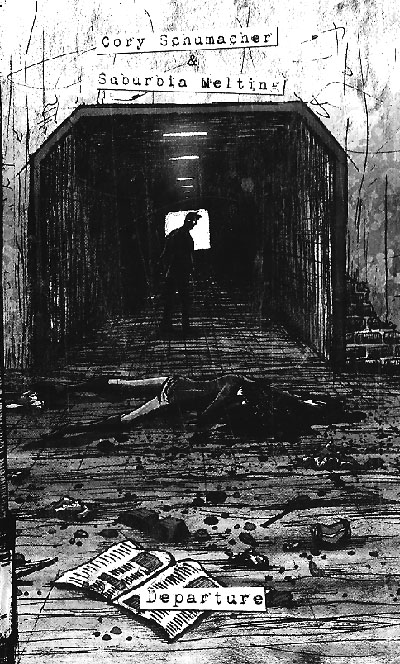 Suburbia Melting/Cory Schumacher – Departure C30
Here's a split tape with a side project of Andrew Quitter from Regosphere (quickly becoming the man with many faces) and Cory Shumacher. First off the artwork is great on this beast: high contrast black and white comic style drawing as the cover with simple text and photo on the inside adds a realistic yet fantastic touch.
Mr. Schumacher is up first with heavy noise walls. The distortion is piled on thick as molasses here with a ton of delay in the mix. Not the spastic cut-up style delay but the heavy booming delay which envelopes the whole mix. Fade sticks out a little with some really interesting sound elements like being battered by an electric wind storm.
I was definitely curious as to what to expect from Quitter with his Suburbia Melting project yet wasn't surprised when an unrelenting wall of harsh noise spewed forth. A swirling miasma of aggressive frequencies, uncontrolled screams, junk noise and plenty of distortion to bring it all to the next level. A heavy slab of uncompromising noise, almost bordering on wall noise yet more detailed and large shifts in sound over time. My only gripe is that it's a touch weak in the low-end.
A very enjoyable split from start to finish with two artists who compliment each other well. They were able to get on the same page for this and the result is quite effective. Recommended dosage of 1 listen every other night for three weeks straight and that whole "being able to hear things" issue will be cleared up for any listener.
| | |
| --- | --- |
| Composition: | |
| Sounds: | |
| Production Quality: | |
| Concept: | |
| Packaging: | |
| Overall Rating: | |