Dead Boomers – Family Money CDR
3 June 2012
xdementia
No Comment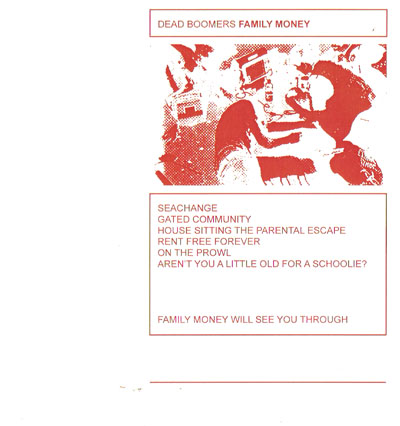 Dead Boomers – Family Money CDR
I believe this is the first official release from this duo who – with their full-length LP release The Pig in the Python – reminded me so much of The Cathode Terror Secretion. Yet this disc varies from that sound quite a bit.
What is delivered here are seven tracks of subdued industrial noise with muddled power electronics vocals here and there. The style is very much in the vein of newer Sutcliffe Jugend; it's not loud, but still rather aggressive, almost quiet and academic but with that sick edge that can't be ignored.
Some of these tracks come with an all-out-war mentality though. Tight and Fearful and Inebriated Consent are each a handful of hateful feedback with blaring distortion yet Dead Boomers can't really reach the levels of harshness that they manage on The Pig in the Python which does show progression since that full-length was actually released after this EP.
Family Money works as an introduction to the project, or for someone who has heard the LP it could work as an expansion of their sound and style. A solid start to this promising project.
| | |
| --- | --- |
| Composition: | |
| Sounds: | |
| Production Quality: | |
| Concept: | |
| Packaging: | |
| Overall Rating: | |