FRKSE – Guilt Surveillance LP
4 June 2012
xdementia
No Comment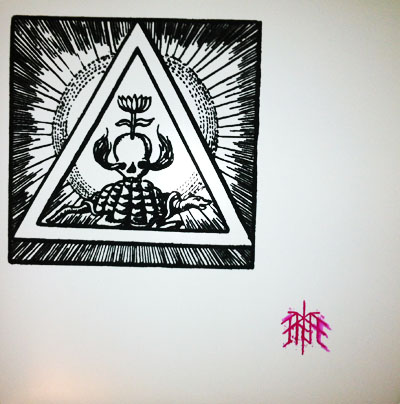 FRKSE – Guilt Surveillance LP
Here's the latest release from Boston's resident esoteric weirdos FRKSE. Mixing noise, black metal, eastern music, hip-hop, and electronica it's always a genre bending affair when FRKSE goes on the prowl and Guilt Surveillance is no different in that respect. Yet, it is different where composition and aesthetic vision are concerned as this LP is a much more focused and mature release than what they have achieved before.
It might be that the majority of the songs are shorter than FRKSE's last few releases – it might just be a result of the format LP vs. cassette – or perhaps it's them tightening things up, and tidying up around the edges. The production is noticeably more clear and concise which helps to bring the details that FRKSE employs to the forefront rather than leave them in the background only to be discovered on multiple listens.
Guilt Surveillance pulls you in right away with fuzzed-out rhythms, looping melodic instrumental samples, and blurry drones. The industrial grit rusting the bowels is more subtle yet this characteristic seems to become more apparent with multiple listens.
There are also standout moments here, the somber guitar intro to New Neighborhood Watch Program is introspective and thought provoking while making me wonder if this possibly had anything to do with recent events – it seems uncanny – as it's accompanied by a poignant spoken sample that sounds in reference to some Middle Eastern struggle. This track and a few others put FRKSE into the perspective of projects like Ô Paradis and Novy Svet which is perhaps the best reference I can come up with for Guilt Surveillance. However in the excellent Adolescent Propaganda a more pure martial-industrial atmosphere arises through heavy percussion reminding me of Megaptera at their most rhythmic and pummeling all in it's path.
The release marks a turning point in the world of FRKSE where they have stepped into a new light of a more mature and focused artistic vision. They are at a new level now and it's an improvement over their past material (though it has been a gradual one with solid releases leading up to this). Very nice work and evolution on this front.
| | |
| --- | --- |
| Composition: | |
| Sounds: | |
| Production Quality: | |
| Concept: | |
| Packaging: | |
| Overall Rating: | |