Iron Fist of the Sun – Danny La Rue Died in His Sleep C50
9 June 2012
xdementia
No Comment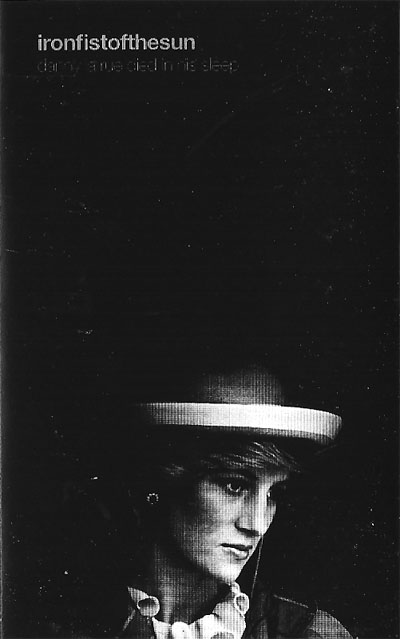 Iron Fist of the Sun – Danny La Rue Died in His Sleep C50
Here is the much hyped project that I have heard so much about yet haven't gotten a chance to actually listen to their output. The big question is: do they deliver? Do they live up to the hype? Well you'll have to keep reading to find out.
This is a pretty burly tape clocking in at 50 minutes – these longer tapes are becoming much more rare in the noise world. Side A is broken into 4 tracks, the first entitled The Gathering of the Fifth is a slow start. With plain synth tones and some PE styled vocals breaking the monotony it's not quite the material I expected. The evolution in composition quickly builds with the following tracks however to create an impressive array of beaten and battered assaults on the senses. By the time side A closes, I'm happy to say I am looking forward to more – and where Danny La Rue.. will take us next.
Side B begins with guns a blazin' in Spaces Between the Form a multi-layered harsh noise and power electronics track stuffed to the brim with industrial elements. Creaking metal, heavily distorted textures, and undulating noise layers all collide while scathing vocals – sometimes getting lost in the fray – tear at the edges of sanity. Finally in the closer Comers Turn a doomier drone-laden track is presented that seems to bring back some of the sounds from the opening track on side A. This time it's a little bit more volatile and moving yet somewhat sinister to make for a great conclusion.
Definitely a solid tape with moments of clarity and ingenuity. As far as early work goes, IFOTS far surpasses what most projects have to offer so I look forward to hearing future endeavors and catching up on this project a bit.
| | |
| --- | --- |
| Composition: | |
| Sounds: | |
| Production Quality: | |
| Concept: | |
| Packaging: | |
| Overall Rating: | |