Crepuscular – Deep Slow Majesty CDR
5 March 2010
xdementia
No Comment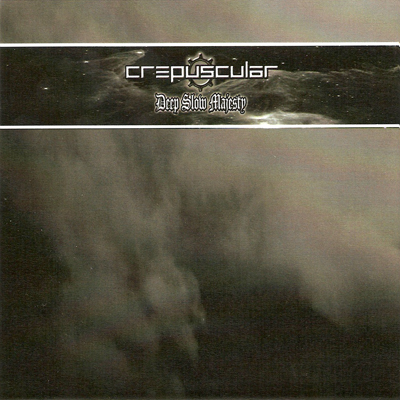 Crepuscular – Deep Slow Majesty CDR
If I were to take a stab at this judging by the packaging, I might say it's Lustmord-inspired dark ambient with too much low-end, not enough interesting textures, too much reverb, maybe a little orchestral elements here and there to give it that Stanley Kuberik 2001 feel, and although it may be aesthetically consistent, it is very likely that those aesthetics reek of late 90s mp3.com dark ambient characteristcs. I would also, be right.
Deep Slow Majesty isn't an album that is at all "bad", it's just not good. Well, maybe even not not good, just very generic. With song titles like "Descending Darkness", "Travelling Through the Obscure Vastness", and "Ethereal Shadow" it just seems to fall together like a lot of dark ambient buzz words picked out of a hat and spliced together.
Probably the most effective track here is the title track "Deep Slow Majesty" with it's more surging tones. I might guess that this is 100% synthesized, perhaps with a synth as unsurprising as a MicroKorg or Yamaha CS1x. The sounds are stripped of most of their character and are mere dull drones throughout almost the whole album. They are sometimes pitched here and there, and I might even say it's when Crepuscular wanders into new age territory that he excels.
It all wouldn't even be that bad if the bass wasn't so heavy in the recording. You can't turn this up without your speakers turning to shit, which makes even pumping the volume up to 11 ineffective. If you just can't get enough of projects like Blood Box, Yen Pox, Lustmord and other synth-inspired dark ambient projects, but are looking for something that isn't nearly as effective, innovative or classy then Crepuscular might be for you. Maybe a good introduction to someone who's never heard dark ambient music before?
| | |
| --- | --- |
| Composition: | |
| Sounds: | |
| Production Quality: | |
| Concept: | |
| Packaging: | |
| Overall Rating: | |