Pusdrainer – The Lustful Sexlife of a Perverted Nympho Housewife C32
13 June 2012
xdementia
No Comment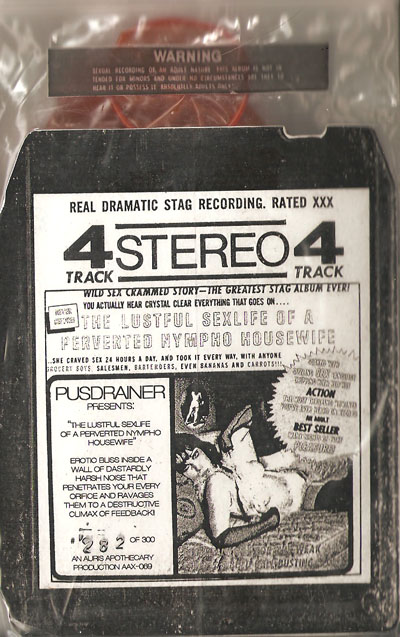 Pusdrainer – The Lustful Sexlife of a Perverted Nympho Housewife C32
Auris Apothecary/Audio Stag Records
So apparently Justin of Pusdrainer found an old 4 track porno audio tape and just had to destroy it as best he could. What you get here is that audio destruction tastefully packaged and presented by the always excellent Auris Apothecary.
As a package this is an impressive effort. The tape is enclosed in a ziplock bag, and wrapped in a tied-off condom which prompted me to untie it with my teeth – in hopes that it may have been used. Although I was partially disappointed, the tape – once removed – was aptly lubed and ready for insertion.
Lo-fi harsh noise is the name of the game here. Heavy distortion, pummelled overdrive, squeeking feedback and oscillator squeals. At the core are tortured vocal samples, once having exclaimed in ecstasy yet now in pain. A vague reminder of the transience of pleasure and the torture of sex.
Definitely a great effort and one for the lo-fi enthusiasts out there. Those who like their noise raw, no-holds barred, and uncensored will find this quite enjoyable.
| | |
| --- | --- |
| Composition: | |
| Sounds: | |
| Production Quality: | |
| Concept: | |
| Packaging: | |
| Overall Rating: | |