V/A – Secret Assembly DVD
27 June 2012
xdementia
No Comment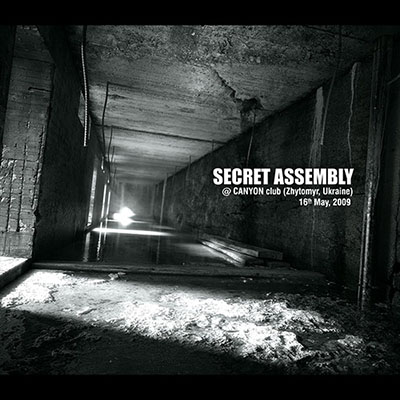 V/A – Secret Assembly DVD
Here's a hefty release that features full videos and pristine audio recordings of an epic show that was organized by Noises of Russia and recorded in the Ukraine on 16th of May, 2009. The artist sets that are included here are Deutsch Nepal, Noises of Russia, First Human Ferro, and Filivs Macrocosmi. An excellent lineup.
On all the sets the video production is top-notch using concert footage, source videos and projections to create an interesting visual collage that is set along with great sets from each act. First up is Filivs Macrocosmi an ambient project from Ukraine who bases most of their visual and conceptual material around Tarkovsky's Stalker. It's an obvious choice for a project like this, as audio queues and samples are mixed in from the film as well. Luckily it's all done quite tastefully and the soundtrack provided fits the visual of the film quite well.
First Human Ferro is up next with a much more heavily conceptual video that is carefully constructed and includes esoteric messages and actual footage from science videos, mostly surrounding subjects of astronomy and evolution. Some of the visual effects used are pretty cheesy with pixilation effects often overused yet sometimes there are some interesting things that come out of it. The plain video collage is the most effective visuals here. Yet the audio is an absolutely excellent set mixing in some First Human Ferro classics which tend toward noisier realms, and some of his newer more ambient based material. Such a great mix of sounds.
Noises of Russia follows up First Human Ferro with a more minimalist video delivery but a similiar – maybe just a touch less cinematic – style of sounds. Mixing noise, drone, and even some power electronics they create a fantastic atmosphere. There are some subtle theatrics here but for the most part the performers remain rather inactive, mixing and fussing with their gear at times much like the other acts before them. This was somewhat of an introduction to the project for me and it certainly left a good impression.
Deutsch Nepal is up last to bring things home. Delivering a cohesive mix of industrial, tribal, and ambient elements with his plodding vocals, a complex tapestry of sound is interwoven into perhaps the most visually arresting video editing of them all. The graphic design and visuals tend towards the subversive yet abstract but the music contains an intensity that is rarely met by many industrial projects. Some notable moments are when the crowd of dancing goth girls are layered into the video mix, and some antics that happen toward the end finally let us see more of the crowd and venue.
This is a great DVD of extremely high quality production and recommended for any fan of industrial, drone, and dark ambient music. The menu items and different sets are put together well, the visuals and menus are designed with taste and clarity as well as a wealth of information on each artist involved. An excellent release.
| | |
| --- | --- |
| Composition: | |
| Sounds: | |
| Production Quality: | |
| Concept: | |
| Packaging: | |
| Overall Rating: | |