RØD STÆR – Tilbake Til Varmland CD
6 March 2010
xdementia
No Comment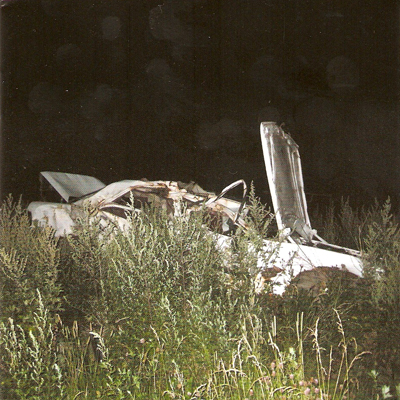 RØD STÆR – Tilbake Til Varmland CD
This is a fucking weird one. Probably took me at least 5 listens to get my head around the whole album, and another 2 or 3 after that to form an opinion of it. Well, I was pretty fucking sick of it after that. I kind of suspected something like this after looking at the artwork, which I actually enjoy quite a bit more then I do the sound here. At least you don't have to sit down and spend an hour experiencing all the artwork to get the point. The booklet is filled with very contrasting dense, lush photos of random objects, houses, forests, beach chairs, dogs, old cars, stoner art etc. I like it, but almost knew I wouldn't really dig this record much judging the book by it's cover.
Tilbake Til Varmland starts off strong with the ethereal "Part 1: Mausoleum, Farvel D, Inn I Lysningen". It's a floating, echoing, reverbed out mind trip which somehow converges into a folk tune towards the end. Really liked the whole vibe of it, like a mix between Flying Saucer Attack and Fennesz.
"Part 2: Tuareg, En Haer Er Her, Jeg Pakaller Sol" immediately kicks off into a more experimental realm and is immediately more annoying, yet still quite interesting and effective. Something about the weird springing sounds and warbling drones giving way to spoken word and back into the more atmospheric elements that made Part 1 so entrancing. I really dig RØD STÆR's ambient atmospheres because it's like he took the creepier, deeper, darker elements of the artwork right out of the booklet and is bringing them to life.
As soon as Part 3 kicks off I know I'm going to hate the rest of the album. And I'm right. Part 3 features actual lo-fi guitar indie-rock styled chords with drums, horribly recorded of course. Then brings in the more experimental elements that weren't too bad before but now is no-holds-barred complete fuckery. The tracks completely change pace and sounds about every 3 minutes and it seems like one annoying passage gives way to yet another, even more annoying passage. Just when I think it can't get any worse it does.
The album may be just shy of an hour but goddamn it feels like eternity. I really wish this was just a 3″ with the first 2 tracks maybe I would at least be able to say: "looking forward to more" or "artist has potential" or something good. But all I can say at this point is goddamn I'm glad to be finished writing this review.
| | |
| --- | --- |
| Composition: | |
| Sounds: | |
| Production Quality: | |
| Concept: | |
| Packaging: | |
| Overall Rating: | |