Limbs Bin – Primitive Response 7"
4 July 2012
xdementia
One Comment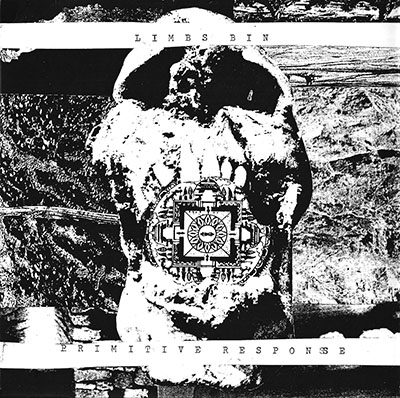 Limbs Bin – Primitive Response 7″
Familiar Combatants/Tickled Meat
This is a sick little record featuring roughly 12 intense minutes of face-melting power violence influenced noise and power electronics. Much reminding me of Dead Boomers who also boast of power violence influences. The formula works quite well and makes for some interesting more primitive rhythmic and punk-influenced sounds.
Each side has three tracks which keeps things moving quite fast. Side A features the title track Primitive Response which is a quick sqeal of feedback leading into heavy power electronics explosions. Sweeps Week follows and is probably my least favorite track here with clear backing drum-beat kind of thing going on and blasts of noise over it. I guess it's probably grindcore influenced so fans of that genre would probably really dig this. End Times closes with a similar vibe but a better show of convergence between the drums and noise to form a thick core.
Sibe B is decidedly noisier with what sounds like a drum-machine core but it's barely legible so it sounds more like a wash of alternating distortion. I like this style and how it adds a morphing and dynamic backdrop to the layers of distortion. All in all I think Side B is quite a bit more successful but if you are the kind of person that likes genre bending with grindcore/power violence you'd probably prefer side A. Probably my favorite track here is Fix Me which is the closer to side B. The tempo is turned down and it becomes a booming death industrial track with well treated vocal attacks layered on top.
The record is at the very least quite original and well executed. Although perhaps I'm not crazy about the style, the production is pristine while keeping a raw feel. The style is uncompromising and it's undebatable that this is heavy as all fuck. Worth mentioning is the excellent black and white high-contrast packaging. It's neatly folded and put together in an impressive D.I.Y. fashion. Nice work.
| | |
| --- | --- |
| Composition: | |
| Sounds: | |
| Production Quality: | |
| Concept: | |
| Packaging: | |
| Overall Rating: | |