Steel Hook Prostheses – Atrocitizer CD
16 March 2010
xdementia
No Comment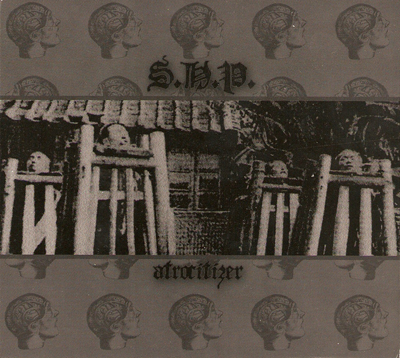 Steel Hook Prostheses – Atrocitizer CD
Ah yes, the SHP boys are back with this full length now coming in from the Malignant front. If you've ever heard SHP before you know you can expect some top-quality industrial noise/power electronics with perhaps a bit of an atmospheric touch. The latter of which is much more apparent over the almost 50 minutes that Atrocitizer spans.
If you took away the scathing vocal attacks – which are often the loudest element in the mix when they appear – and merely focused on the sounds, you would be hearing metallic shimmers, subtle industrial rhythms, droning ambience, and blasts of noise. Vocals appear in most of the tracks, sometimes being extremely loud and others being more subdued – like the flanging warbles in "Murderous Science" – but even then, the distorted screams appear before the end of the track.
There is a stunning variety of sounds featured in Atrocitizer, with some of the tracks changing rapidly much more then the typical power electronics or industrial record. This quality both makes and breaks Atrocitizer. The positive aspect of it is that the sounds are always engaging and very highly produced. The negative aspects of these quick changes are that the listener is quickly lost in the labyrinthine song structures. In most cases the compositions are almost cinematic in quality, with plenty of depth but this also serves to soften SHP's sound a bit more compared to their rawer early material. This can either be a positive or negative thing depending on your taste, if you enjoy the sounds of SHP's side project Metaconquerer you will probably really enjoy Atrocitizer because I'd even go as far as to say at least half of this material could march under the dark ambient banner.
Atrocitizer is SHP's most accessible release to date. A very well produced record but one that lacks the cohesive vision to make it truly great. That's ok, because there's plenty of fucked up atmospheres that SHP is gleefully willing to hammer into your skull. More of a mix of dark ambience/industrial/power electronics then ever before. If SHP can tighten up this sound a bit more I think they may really be onto something.
| | |
| --- | --- |
| Composition: | |
| Sounds: | |
| Production Quality: | |
| Concept: | |
| Packaging: | |
| Overall Rating: | |