Lid Emba & Bobcrane – We Substitute Radiance CD
16 March 2010
xdementia
One Comment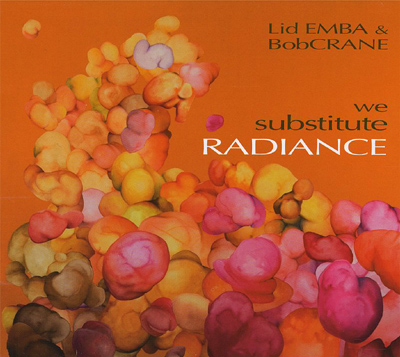 Lid Emba & Bobcrane – We Substitute Radiance CD
Here are two new-to-me artists delivering a collaboration of experimental guitar driven electronica in a very colorful digipak. The art kind of looks like the fruit section at the supermarket. Definitely an eyebrow raised when I first peeped this shit and I can say right off the bat this isn't my thing.
The weird sounds and experimental aspect of We Substitute Radiance is pretty neat. "Ear candy" type sounds glistening, squiggling, chirping along in every track. The electronica aspects are a bit weaker, the sparse melodies popping in and out I'm fine with but most of the beat programming is quite mediocre with some of it being downright embarrassing (see "Stampeder"). I'm not asking for some 4 to the floor dance beat here but in most cases the beats are either hopelessly generic or trying too hard to be wacky and syncopated.
By far the worst quality of this though is the guitar. When it's not pissing out some slow "anthemic" rock melodies it's spouting some horrible excuse for "heavy metal" power chords. The music here is just really watered down, B grade music for the sake of music, and just two dudes fucking around with a lot of expensive gear. The closest comparison I could find to this is like taking the laptop fiddlings of Alexander Rishaug then mix it with newer Perdition City-era Ulver and dilute so it's almost completely nothing but watered-down backwash.
I'm being harsh, it's not garbage. More engaging then a lot of the stuff I've reviewed but there's little-to-nothing that I really like about We Substitute Radiance and a lot to hate. It happens sometimes, like when people send me stuff like this to review instead of industrial/noise/power electronics.
| | |
| --- | --- |
| Composition: | |
| Sounds: | |
| Production Quality: | |
| Concept: | |
| Packaging: | |
| Overall Rating: | |