Dead Times/TRTRKMMR – Split LP
24 August 2012
xdementia
No Comment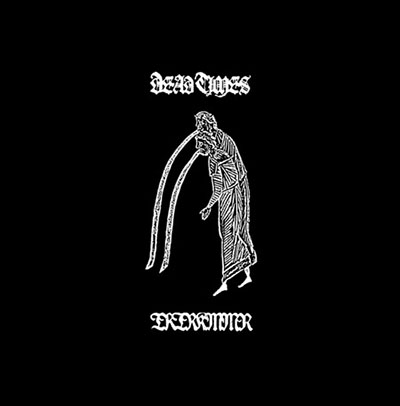 Dead Times/TRTRKMMR – Split LP
Here's a heavy split with 2 like-minded artists representing the blackest of harsh music. The packaging is simple white print on black backgrounds and includes a nifty insert/sleeve with all the info needed on it.
TRTRKMMR is up first with tracks that start out as aggressive power electronics. Chugging distortion, samples, aggressive vocals in the black metal style of things. A track or two in things turn into this kind of ultra-distorted black metal stuff with harmonies emerging somewhere deep under the overdriven layers. Finally, leaking through the distortion is some melancholic guitar lines that answer all questions about their black metal influences – it is clear this has the basis of a black metal aesthetic. My favorite moments of TRTRKMMR's side are when the percussion comes to the forefront which adds an industrial feel that bridges the gap between the black metal and noise influences nicely..
Dead Times is the project of Stephen Vallot who now operates uner the moniker of Locutions. Kicking things off with a choral sample of hymnal music the epic industrial pounding and black metal styled riffing come in with a bang. The sound of Dead Times is much more cohesive, composed, and clear than that of TRTRKMMR's sounds. Add to the blast of mid-paced distorted beats, scathing vocals, and dirgy guitars a smattering of bells and other more medieval styled instruments and what we get here is a truly unique sound. Almost coming off as a black metal interpretation of Of The Wand & The Moon.
This LP is a must have for any fans of both noise and black metal no matter which side is dominant in your tastes. It's an example of the styles converging perfectly and with great success and aesthetic vision. Great work.
| | |
| --- | --- |
| Composition: | |
| Sounds: | |
| Production Quality: | |
| Concept: | |
| Packaging: | |
| Overall Rating: | |