+Dog+ – Spiritual Awakening CDR
22 March 2010
xdementia
No Comment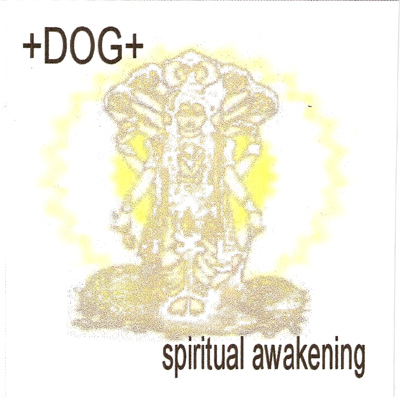 +Dog+ – Spiritual Awakening CDR
Expectations are a funny thing, they can really affect how I end up feeling about something. The god-awful design on Spiritual Awakening really sets the bar very low and got me expecting the absolute worst from this full length. Of course, looks can be deceiving, and a good musician does not always a good graphic designer make. Am I still making any sense here? Well, Spiritual Awakening is about an hour of what I can only describe as "mid-paced noise". The material presented here is not minimalist by any standards but it's not harsh-cut up or wall noise. Low dirges of feedback, a ton of distortion to the point where the source is absolutely broken down – sometimes even to a merely clipping glitch – although it rarely reaches this point. They somehow even manage to use this to their advantage like in "Born" where the over distorted degradation forms this strange rumbling rhythm which is then sent through a delay and fucked to high hell.
Normally the methods for sound production here would bring about disaster; there's a ton of stupid tone (the resonant frequency of a given feedback loop), frequent over use of delay (the worst offender here being the opener and title track "Spiritual Awakening"), and plenty of wanking off. But somehow +Dog+ manages to make the stupid tone so warm and fuzzy as to form a comfortable lo-fi drone, the use of delay into a flanger-like effect, and the wanking off into these mesmerizing hypnotic passages. Perfectly exemplifying +Dog+'s tricks is "Carlisle Punks '87" which is a strangely named track that sounds like it uses a guitar, or possibly even a koto as it's main source. The low-hum soon joins the meandering string instrument and as does spastic distorted percussive sounds which make for an odd atmosphere.
With most tracks here being over 5 minutes it does feel like +Dog+ draws things out for too long, but somehow I am still satiated each step of the way. The beat presented in "Born" feels like +Dog+ is finally running out of tricks and by this time I'm wishing they could roll over and play dead. Despite the terrible graphic design the concepts here are cryptic yet strangely engrossing. With the track "Carlisle Punks '87" morphing into an almost baroque melody by the end, and other track names like "Save Us", "LA Oxygen Thief" and "Fall of Richmond" it really feels like the concepts here are culled from some random, but meaningful experience that can only be fully understood by the artist themselves.
Spiritual Awakening is not a great record by any means, but it has a unique feeling of these strange noisy hypnotic industrial dirges. Lo-fi and filthy but with enough cohesive characteristics to keep it from falling apart. Certainly an interesting release and if they could find a label that would be able to focus their artistic vision throughout the packaging a bit better and work on evolving their sound a bit they could be a force to be reckoned with.
| | |
| --- | --- |
| Composition: | |
| Sounds: | |
| Production Quality: | |
| Concept: | |
| Packaging: | |
| Overall Rating: | |