V/A – Milwaukee Noise 2005-2010 12xC30
10 October 2012
xdementia
One Comment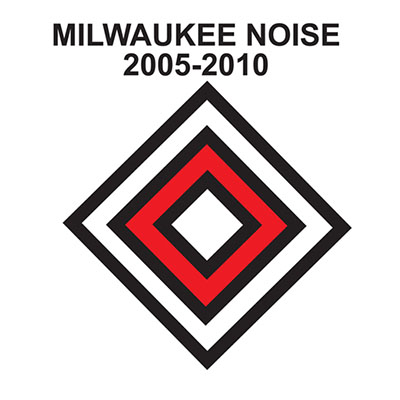 V/A – Milwaukee Noise 2005-2010 12xC30
Thought I would bring reviews back with a bang with this monumental box set of twelve – yes you read it right – TWELVE cassettes of noise from artists active in the Milwaukee noise scene between the years of 2005-2010. The release costs $40 and that may be hard to justify but I got a chance to see this sucker first hand before I handed over my cash and it's not really until you hold it in your hands that you realize how much work must have gone into this thing. Housed in a big padded case with simplistic yet classy artwork and a full-color insert twelve page zine with one page dedicated to each artist this is simply a mammoth release.Each tape clocks in at roughly 30 minutes with 15 minutes to each side.
First up is Blessed Sacrifist one of my favorite artists currently operating in the Milwaukee noise scene. His contribution here is a great mix of tonal classical samples and synth drones that build into washes of harsh noise, power electronics and distorted atmospheres. Having been to Milwaukee several times I find that Blessed Sacrifist's sounds embody the atmosphere of the city succinctly and make this cassette a great addition to the set. The harmonic elements accentuate the harsher characteristics beautifully and form the most effective tape in this collection.
Captivity is up next and presents a storm of noisy guitar based drone in Miasma reminding me a lot of Locrian. The track is rather generic yet still well done, converging into just a few clean strums in the end while fading into general feedback. Side B features Suffocation which I find much more interesting with atmospheric percussive elements, scraped cymbals, muffled toms, shifting plates of metal adding up to a subdued tribal horror sound. The production here still remains distorted with a lo-fi feel but all frequencies are well represented and the layers – although converging with a healthy crunch – stand out as well.
Climax Denial is a favorite of mine and I'm really happy to see him joining this roster of already excellent artists. Lakefront Web Cam is on Side A and features a much quieter drony version of what Climax Denial does. Maybe it's his normal schtick sans distortion? Either way there is an added electronic kick drum to add a layer of suspense to the track which is needed but I'm not sure that's the best way to do it. It takes away from the atmosphere a bit but works in the end. Halfdressed Unconscious (Estabrook Park) is a much more enjoyable track following a similar vibe as side A but this is actually cohesive and refined. The different elements mesh together well and recall a Lynchian theme. The drones interact with the slow, plodding drum and bass line and succeeds in a level of creepiness which meets that of Climax Denial's heavier sound.
Custodian is the harsh noise representative and here and he delivers. Two full sides of nothing but the most brutal and disturbing barrage of sounds. The general quality is thick and oppressive with a sharp reverberation in the mix which only serves to explode the sound out to a greater area. The sounds don't appear as individual elements as much as an enormous mass of sound that is always writhing in pain and seething with hatred. There is nothing here but the darkest form of Nihilism and loathing which makes for – of course – a very enjoyable and fulfilling listen.
Dan of Earth is up next and marks perhaps the biggest shift in tone so far. The dark and oppressive character is let up a bit with these more science-fiction styled experimental tracks. Kicking off side A with Prelude, a bleeping, bubbling soup of sound which ends rather abruptly before Tweep Attack blasts in with a heavier barrage of what sound like modular synth layers. It's not exactly harsh or aggressive but is most definitely thick. In both Coffee and Radios and Mary's Leg Dan of Earth creates lo-fi am radio atmospheres with muddled samples and subtle noisy synth chirps.
Lucky Bone represents the more interesting and esoteric side of experimental with Good Day/Bad Day. Spoken samples that are severely mangled through analog means, tape degradation, speed shifting, and circuit bending. The result of which can sometime sound like an old 50s film or an angry flock of birds attacking your eardrums. When, about 5 minutes or so into the track we are greeted with passages that resemble the sound of Xenakis' Concret PH it's time to acknowledge that Lucky Bone is really onto something here. In Lucky Bone Loves Sad Women we are exposed to similar methods of audio decimation. With an intro that sounds like a dying Saturday morning cartoon and an outro that reeks of a dysfunctional jukebox, the true character of Lucky Bone's sound seems to be surrealism. It's a different way of interpreting the pre-recorded material that he is processing.
M. Jurek is up next and glancing at his page in the booklet I am still left confused at the 8-bit graphics incoherently mashed together. What is contained within the magnetic confines of his tape though points to a dirty, overblown barrage of quickly moving noise atmospheres. With tracks ranging from throbbing distorted drones, to power electronics and even experimental ambience his offerings here are one of the bigger surprises. Side B is continues to please as well because it continues the eclectic collection of sounds but moves towards a much darker edge finally culminating in an avalanche of blackened noise and seething vocals. Very well executed material here.
Mildew is up next offering up some murky lo-fi drudge. A mess of subdued distortion, oscillator squeaks and muffled vocals make up side A and leave me a touch underwhelmed. Finally the filth and mud converge to form a strange almost lo-fi tribal atmosphere of repeating rhythmic patterns with weird layers that almost sound like horns.
Nummy uses his time to present a continuous 2 second loop throughout his whole tape. It kind of sounds like someone coughing.
Pataphor is up next and with only a dreary cityscape representing his work in the booklet what we are met with are light waves of static and underlying repetitive synth melodies. Eventually some bubbling oscillators begin to grow and finally the static fights for dominance toward the end of the track. Side B features another repetitive synth squall finally joined in later with more washes of noise increasing in volume and intensity throughout. Although it feels a little redundant at this point and doesn't really offer much new light to the project.
Finally we come to Peter J Woods tape, the man behind the entire project and the staple of noise in Milwaukee. His offerings here are not in any way a departure from his style and represent the current evolution with his project. The style is a plodding, thoughtful, and articulate interpretation of power electronics. A Cleansing Process offers a more creepy and subdued atmosphere with bubbling vocals and high-pitched drones coupled with a throbbing pulse, the composition falls together succinctly. Side B is a touch more artsy with repeated rhythmic patterns and blasts of noise coupled by Whitehouse styled vocals in Eventually Everything I Own Will Be Covered in Coffee Stains. The track continues after a dramatic change which begins with a dirge of sludgy tones and building static. An underlying drone begins to emerge while the pummel becomes unrelenting until it suddenly cuts out. Shadow Tunnel begins with a bed of dynamic soft wisps of noise and fast barrages of intense white hot distortion. Gestures and sound effects are mixed in to give it a more electroacoustic character along with disembodied vocoded vocals. Even more great compositions from this ever-impressive artist.
Reptile Worship closes the box set with two heavy tracks of doom-laden drone. On side A there are plenty of industrial elements joining the low constant tones. Explosion blasts, rattling scrap, and slowly rising walls of distortion echoing in the night. Pitched down vocals also join up here to form a very dark scene. Side B keeps the tone intact yet features a bed of seething distorted noise. Throbbing synthesizers provide a base for the distorted tones to slither around which stay constant throughout the track. A solid bookmark to end this mammoth compilation.
What FTAM has created here is a great summary of the noise scene in Milwaukee over the last 5 years that also happens to feature some amazing artists. Some of the material here lies outside the boundaries of my taste but that is to be expected from almost any compilation. Even when the artists don't quite satiate, they do at least provide some interesting concepts and contexts with which to enjoy their sounds. This is a release highly recommended for the fanatics out there, great work.
| | |
| --- | --- |
| Composition: | |
| Sounds: | |
| Production Quality: | |
| Concept: | |
| Packaging: | |
| Overall Rating: | |