Kshatriy – Transforming Galaxy CD
10 October 2012
xdementia
No Comment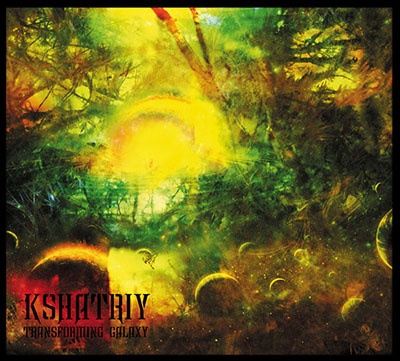 Kshatriy – Transforming Galaxy CD
Ah, nothing like good 'ol space ambient to help ground me this morning after a hard night of drinking. At least this stuff will soothe my headache appropriately. First off, love the packaging. Very tasteful, colorful, and psychedelic mix of images make up the artwork on this slick digipak.
The sounds and style of Transforming Galaxy might be a touch predictable; harmonious synth drones, deep resonances, crackling samples. But it is well executed nonetheless. The synths aren't overtly melodic or cheesy, the merging of electronic and organic elements meld together very well, especially in The Song of the Unknown.
Awakening takes a step down from outer space to a more earthly realm with bird ambience embedded among the floating drones. The music here once again reminds me of the score from Tarkovsky's Stalker (must all Russian dark ambient harken back to those roots?!) with flute-like pads emerging among the gleaming layers.
One thing that I really enjoy about Transforming Galaxy is that the whole album ebbs and flows quite nicely. The tracks are generally active drone, but others like Omut and Hymn to Kali (Part 3) offer a respite from the activity with a more minimalist touch. This really helps the pacing and makes Transforming Galaxy a dynamic listen.
This is a dark ambient album through and through and although there is no original ground tread here it features very well constructed atmospheres and well designed sounds. I would recommend this to both a dedicated fan of dark ambient or a person just getting into the style because it is a shining example of the genre.
| | |
| --- | --- |
| Composition: | |
| Sounds: | |
| Production Quality: | |
| Concept: | |
| Packaging: | |
| Overall Rating: | |