Asva & Philippe Petit – Empires Should Burn…. CD
13 October 2012
xdementia
No Comment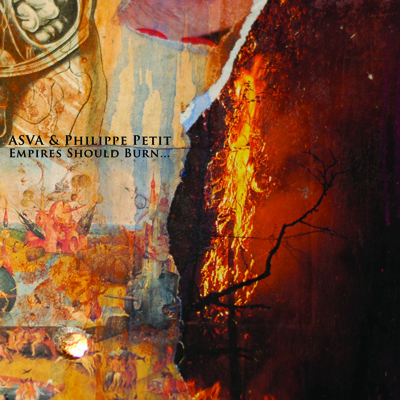 Asva & Philippe Petit – Empires Should Burn…. CD
This one arrived out of left field. Being unfamiliar with both artists my expectations were set pretty low. Although the material I've heard from Small Doses has always been pretty good I really didn't know what to expect. The artwork conjures images of ethnic sounds and world music but with a hint of decay.
What is contained within is some excellent ritualistic dark ambient music reminding me of a cross between Halo Manash and Arktau Eos, two excellent artists off of the Finnish based Aural Hypnox label. Empire Should Burn… kicks off with a mammoth 23 minute track featuring very organic drones and organic plucked zither sounds. This track is very heavy on spoken word with a continuous monologue throughout but it doesn't hinder the atmosphere too much.
The rest of the album continues in the same vein with various drone tracks containing subtle melodies, harmonies and sound design elements until the closing track Apocryphatic Ally which has much more musical edge to it. The production for the album is extremely crisp and clear which helps to illustrate the excellent instrumentation and tactful drone work, the latter of which might not even be synthesizers.
The most important characteristic I really enjoy about Empire Should Burn… though is the atmosphere achieved. It's not so much dark, but more mysterious and esoteric somewhat calling to mind the works of Kama Rupa but with much more clarity. This is some really great work and highly recommended.
| | |
| --- | --- |
| Composition: | |
| Sounds: | |
| Production Quality: | |
| Concept: | |
| Packaging: | |
| Overall Rating: | |