Cultus Sabbati – The Hagiography of Baba Yaga C30
19 October 2012
xdementia
No Comment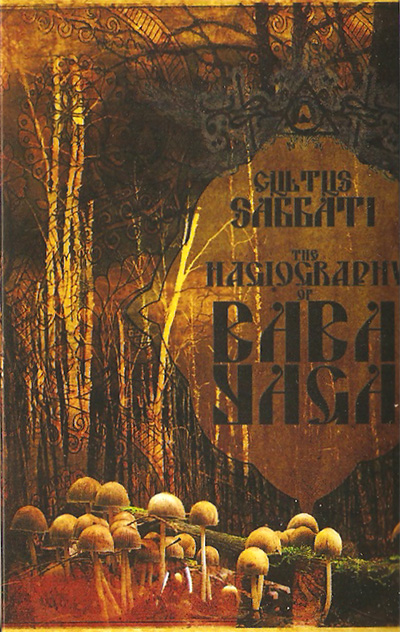 Cultus Sabbati – The Hagiography of Baba Yaga C30
Here's a beautifully packaged tape with full color printing, graphics and tracklisting on the tape and a fold-out J-card. It greatly reflects the sounds for this artist that I am not familiar with.
Cultus Sabbati present guitar-based drone with a ritual ambient feel. They explore elements like tribal drumming, blackened whispering, and guitar riffing while mixing in a good amount of synthesizer and noise drones to thicken things out.
There are some good moments here with creative vocal effects, but I'm not as crazy about the guitar meandering. It tends to come off as feeling too jammy for my taste and since a lot of textures on Never Turn Your Back to the Forest are created this way it lessens the effectiveness of the atmosphere.
Side B kicks off with The Attestation of Wassieissa which is much more to my taste with subdued drones finally building into some effective washes of noisy distortion towards the end, much reminding me of the work of Temple of Tiermes. Arch-Crone Bone Mother marks another successful track where the elements of noise, drone, and tribal drums come together more effectively than before showing that Cultus Sabbati evolves throughout the album.
Recommended for fans of guitar drone and ritualistic ambient like Sunn0))), Temple of Tiermes, and Halo Manash though perhaps not quite as effective as any of those artists Cultus Sabbati builds a strong base to work off of with this release.
| | |
| --- | --- |
| Composition: | |
| Sounds: | |
| Production Quality: | |
| Concept: | |
| Packaging: | |
| Overall Rating: | |