The Vomit Arsonist – Go Without CD
19 October 2012
xdementia
No Comment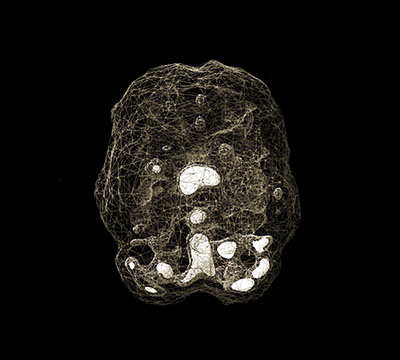 The Vomit Arsonist – Go Without CD
This marks The Vomit Arsonist' second proper CD release but with a slew of other impressive releases the project is building quite a portfolio. Go Without is presented in a classy digipak with very dark artwork mostly in black and white. Photos include abandoned industrial places, and possibly an MRI scan on the front? Not sure what the significance of the cover art is but it at least is quite intriguing.
What you can find within is the most completely hopeless and bleak death industrial atmospheres with many tracks featuring power electronic vocals layered on top or depressing spoken samples. The music is generally a mix of distorted synth drones and industrial clangs and bangs.
The weird thing about Go Without – as with most of The Vomit Arsonist's material – is that the production leans toward the quiet side while still being very heavy and aggressive. The reason is because there is so much low-end here that the other frequencies tend to have less impact as a result. I can say with confidence that this is intended though, because when you listen to this record on a system with a subwoofer it opens up a whole new realm of detail.
The most effective tracks here are Drown with its plodding industrial rhythm, and of course the title track with a pummelling barrage of explosive bass attacks coupled with a thick core of bassy distortion and seething vocals. Making a great closer is When There Is No One Left To Blame, I Must Blame Myself which has a great ending. For the first time the oppressive distortion dies down to only offer seething dark ambience with the last of the vocals echoing into emptiness. Industrial shifting still lights the way until we are finally left in total darkness.
Overall Go Without is a valiant effort by one of America's premiere death industrial acts. The Vomit Arsonist continues to spread his unwaveringly nihilistic vision and aesthetic in this plodding return.
| | |
| --- | --- |
| Composition: | |
| Sounds: | |
| Production Quality: | |
| Concept: | |
| Packaging: | |
| Overall Rating: | |