Evil Moisture – Goo LP
28 October 2012
xdementia
No Comment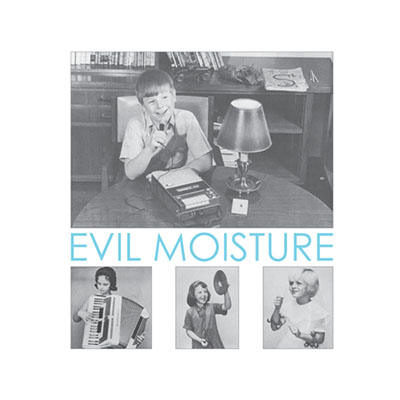 Evil Moisture – Goo LP
Straight from the Blossoming Noise camp comes this LP featuring some great design. With tongue-in-cheek graphics featuring people from the 50s with musical instruments, tape machine diagrams all on a baby blue/white color scheme the graphics match the sounds well and this is my first exposure to the sounds of Evil Moisture.
Evil Moisture creates fun experimental noise – something that admittedly I'm not really that into. There's a ton of tape machine manipulation which sounds well – exactly like it usually does. A lot of distortion layered on with perhaps not much delay or reverb at all so the sounds are very close-up and personal at all times. Tons of squiggly feedback oscillations, meandering high-pitched squeals, Black Pus influenced on/off vocal growls.
This very much reminds me of Stockhausen's work Spiral which is culled merely from radio frequencies. The difference here is it seems the source material is carefully chosen and everything is more rehearsed. There are some moments I do genuinely enjoy like those sparse passages that break out into more pure harsh noise but unfortunately those are few and far between. Most of what you will find here is the wanky, gestural, start/stop attacks which only serve to frustrate.
I'm sure Goo is probably a big hit in some circles, I know people who eat this stuff up. But for me sped-up samples of Saturday morning cartoons and thrift store wankery doesn't make such a great combination.
| | |
| --- | --- |
| Composition: | |
| Sounds: | |
| Production Quality: | |
| Concept: | |
| Packaging: | |
| Overall Rating: | |